There are a whole lot of things that you need to consider and get before you bring home your first ferret. One important thing that you will need to get is ferret treats. Treats are important for training, they are a lot of fun for your ferret, and they can even give you the opportunity to add some important vitamins and nutrients to your ferret's diet in addition to what he is already getting from his food. However, ferrets have sensitive digestive systems, so you need to be careful whenever you are giving your ferret something to eat.
In this article, we are going to take a look at some of the different factors that you need to consider when buying ferret treats. Additionally, you will find an option for ten great ferret treats for you to consider.
This post contains affiliate links, and I may be compensated if you make a purchase after clicking on my links, at no extra cost to you. Thanks!
10 Best Ferret Treats You Can Buy Online
Our Score
Ferrets are rather picky eaters. If they do not try new food when they are young, they will likely not want to eat it later on. For this reason, getting a variety pack when your ferret is young can be a really good way to get him used to a variety of different flavors.
The Marshal Bandits Premium variety pack comes in five different flavors: bacon, chicken, raisin, peanut butter, and banana. You do not need to worry about added fruits or vegetables because the banana and raisin are just flavorings, not real fruits or vegetables.
It is also made with some really nutritious ingredients. The first three ingredients are chicken, chicken liver, and chicken meal. It does contain some grain in the form of wheat flour, but it is not the main ingredient and will not harm your ferret. It's really just a more neutral ingredient rather than beneficial or problematic, which is fine in treats, and as long as it is not the main ingredient.
The treats also come in sealable packages to help keep your ferret out (though you should still keep it shut up high in a cabinet) and to keep them fresh in between play and training sessions.
Pros
Real chicken
Variety of flavors
Low in fiber
Cons
Does contain wheat flour and artificial flavors
Our Score
Small, soft, chewy treats are great for training, but bones and harder chews like this one offer a lot of great benefits for your ferret's dental health, and they keep your ferret busy for longer.
The NBone Ferret Chew Treats are specifically formulated to remove plaque and tartar as your ferret chews on them. This is especially important if the food that you are giving your ferret is softer. Chewing and crunching is a key factor in keeping your ferret's teeth strong and healthy.
NBones also include taurine, which is an important nutrient for your ferret. If your ferret is not getting taurine through his food, you need to get it in through treats like this one. It is also sweetener-free, but the ingredients are not animal by-products, so you do not want to give your ferret too many of them.
Pros
Good for your ferret's teeth
Contains taurine
No sweeteners
Cons
Animal protein and meat is not a primary ingredient
Our Score
If you are looking for a treat that is high in nutrients, you might want to consider the Wysong Optimize treat. This treat is formulated to work with cats, dogs, and ferrets by mimicking the carnivorous diet of animals in the wild. That means it is high in proteins, fat, and animal products while remaining low in things like carbohydrates.
The treat itself is a piece of freeze-dried meat coated in their micronutrient mix. However, it is important to make a note of the fact that there are cheeses in the ingredient list, which can be problematic for your ferret's digestive system. This is not a treat that you want to use all the time for training purposes.
However, as a yummy bite and to offer your ferret a few extra nutrients each day, Wysong Optimize is a great option.
Pros
Made with real chunks of freeze-dried meats
Lots of added nutrients to keep your ferret healthy
Formulated to mimic your ferret natural diet
Cons
It does contain dairy, which can be hard for ferrets to digest
Our Score
If you liked the NBone chews that are great for your ferret's teeth but are looking for something that is more suitable for training, you could consider getting the Nbone soft treats. These treats are soft, bite-sized bits that you can use for play or training purposes.
Each tiny bite-sized piece is packed with great nutrients like vitamin E. It also contains both Omega 3 and Omega 6, which will help keep your ferret's coat and skin healthy and vibrant.
When you take a look at the ingredient list, you will see that these treats are made with real chicken, which is the kind of thing that ferrets can digest best. It is also low in fiber which is always an important part of any ferret food or treats.
You will notice that it contains sweet potatoes, which is not always the best for ferrets, but it is okay in small batches. You just want to watch to make sure that your ferret does not experience any blockages or digestive problems.
Pros
Made with real chicken
Contains Vitamin E
Contains Omega 3 and Omega 6 for coat and skin health
Cons
Contains sweet potatoes, which can be hard for some ferrets to digest
Our Score
One of the biggest complaints about ferrets is that they can smell, especially when they first come home and are trying to stake their claim on a new place. Most people do not like the musky smell that ferrets produce, but the good news is that it can actually be managed by changing up your ferret's diets a little bit.
Yucca is a nutrient that helps naturally deodorize your ferret's stool, urine, and body odor. Some foods contain yucca, but if your ferret's food does not, feeding him 2-3 of these ferret treats a day can make a world of difference.
In addition to the yucca, this treat is made up of natural ingredients like real chicken. While it does contain potato starch, it is not one of the first ingredients and therefore should not cause any problems. Just make sure you do not give your ferret too many of these treats a day. They are meant to help manage smell, not really act as a training treat.
Pros
Yucca is a natural deodorizer that will help minimize the smell
It is made with natural ingredients, including real chicken
It comes in a resealable package to keep the treats fresh
Cons
You will need to buy other treats for play and training
Our Score
If you are working on a lot of training right now, the Browns Tropical Carnival Chicken Ferret Treats might be the best option for you. These treats are made with real chicken protein and absolutely no plant protein, which makes it a really healthy option for ferrets.
It is also fortified with vitamins, so you do not need to feel bad giving lots of them to your ferret. In fact, it is okay if this treat makes up to 20% of your ferret's diet. Additionally, each piece is small enough that you can quickly give it to your ferret before moving on to the next step of training.
Finally, as long as you keep this treat sealed up tight in the bag, it will stay fresh for a long time. However, if you leave any sitting in your ferret's cage, you will want to throw them out at the end of the day so that they do not go bad and get your ferret sick.
Pros
Made with real chicken protein rather than plant protein
The small, bite-sized pieces are perfect for training
Each bite is vitamin fortified to benefit your ferret's health
Our Score
If you are looking for a simple treat that you know you can trust without making it yourself, you might want to get Marshall Ferret Extreme Munchy Minnows. This treat is exactly what it sounds like, pieces of freeze-dried minnow.
While this basic treat might not have tons of added vitamins and nutrients, it also does not have any sweeteners, dairy, grains, etc., that could be potentially harmful to your ferret. Additionally, while ferrets might not eat fish in the wild, that is more due to lack of access than an inability to digest. Fish can actually be really beneficial to your ferret's overall health.
Because the ingredients are simple, Marshall Ferret Extreme Munchy Minnows make great training treats, or you can give them to your ferret for a fun snack a couple of times a day. Depending on the food that you feed your ferret, you might want to use other treats too in order to add more vitamins and variety to your ferret's diet.
Pros
Simple, animal-based protein treat
No added preservatives, artificial flavors, or harmful ingredients
Great option for training
Cons
No added vitamins or nutrients
Our Score
Cat treats can be a really great option for your ferret as cats and ferrets have similar dietary requirements. These cat treats are made from entirely natural and raw ingredients-specifically, free-run poultry and wild-caught fish that have been freeze-dried and turned into a treat.
In addition to meat, the Orijen Freeze-Dried Cat Treats include animal organs, cartilage, and bones that provide your ferret with even more nutrients and mimic what your ferret would be eating in the wild.
The treat does contain a natural preservative, but there are no artificial preservatives or flavors added. It is also completely grain-free, which can be hard to find in both ferret treats and cat treats. In fact, when it comes to ingredients, this is one of the best options on the list.
Because of the healthy ingredients, this treat is a really great option for training and snacking throughout the day.
Pros
Made from primarily raw and natural animal byproducts, including meat, cartilage, and bones
Completely grain-free and free of any artificial flavors and preservatives
If you have a cat and a ferret, this treat can be used for both
Cons
It does contain a preservative
Our Score
Another great option if you decided to go the cat treat route for your ferret is the Redbarn Cat Protein Puffs. These puffs are made up of chicken liver – which is great for your ferret – and milk protein.
Milk protein can be hard for your ferret to digest in large quantities, but it should be fine in small amounts, though if you have concerns, you can always check with your vet. It is important to keep in mind that the milk protein does means that Redbarn Cat Protein Puffs are not necessarily the best training treat, though your ferret is sure to love the taste.
The treat is free of wheat, corn, soy, grain, and gluten. It is also completely free of artificial colors and preservatives. The added crunch of the treat is also better for your ferret's teeth than some of the other more soft chews available today.
Pros
The first ingredient is real chicken liver
Grain, wheat, corn, soy, and gluten-free
Delicious taste that even picky ferrets love
Cons
Contains milk protein which can be hard for ferrets to digest
Our Score
Last but not least is another variety pack. This set of cat treats comes in four different flavors: chicken and duck, chicken and trout, chicken and salmon, and chicken and turkey. All four flavors are made with real meats and formulated to mimic the kind of diet that cats eat in the wild, which luckily is similar to the kind of diet wild ferrets eat.
In addition to having beneficial, real ingredients, it is also completely free of more harmful ingredients like artificial preservatives, colors, and flavorings. It is also free of corn, soy, and wheat which are common ingredients in both cats treats and ferret treats, despite not adding any nutritional benefits.
However, if you are newly introducing this treat to your ferret, you should do so slowly as it does include potatoes and gelatin, which can be hard on some ferret's stomachs. However, it should not cause any major problems.
Pros
Made with real chicken, duck, trout, salmon, and turkey
No artificial preservatives, colors, or flavors
No corn, soy, or wheat
Cons
Contains potatoes and gelatin, which can be hard on some ferrets' stomachs
What Are Your Ferret's Dietary Requirements When It Comes To Treats?
Whenever you are picking out something to feed your ferret, whether it be pellet food or treats, you need to take their dietary requirements into consideration. The most important thing to remember is that ferrets are obligate carnivores which means they can only eat meat and other animal byproducts like fur, skin, and bones.
On the other hand, they are unable to digest any complex carbohydrates like fruits and vegetables. Even still, some foods like grains will not cause problems, but they pass right through without any nutritional benefit.
Your ferret's diet needs to be high in protein and fat. Your ferret should get most of his protein and fat from his actual foods, but you can add even more into his diet with treats if needed. Additionally, you can use ferret treats to provide extra vitamins and nutrients. For instance, ferrets need taurine in their diet, but it is not always in pellet food, so you can possibly include it through treats.
However, if your ferret is getting all the necessary nutrients and vitamins from its food, you can just get treats that your ferret will enjoy the taste of. Because ferrets can be so picky, it can take you a couple of tries to figure out what your ferret really likes.
What Type of Treats Can Ferrets Eat?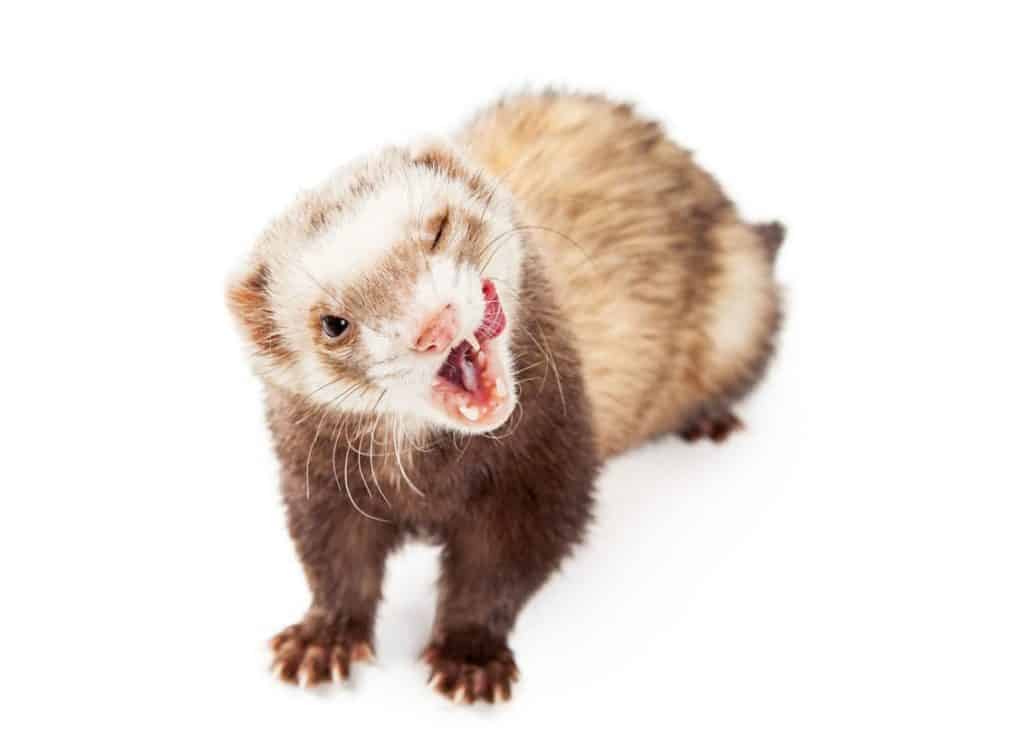 Store-Bought Ferret Treats: Store-bought ferret treats are often the most convenient option. They are designed for ferrets, and all you have to do is pick them up or order them, rather than spending a whole lot of time making your own at home. However, store-bought ferret treats are often quite expensive when compared to other animal treats or some homemade options.
Store-Bought Cat Treats: If you are looking for a cheaper option than store-bought ferret treats, you could consider store-bought cat treats. Cats and ferrets have similar dietary requirements, so often, the ingredients in cat treats are perfectly fine for ferrets. However, if you are buying cat treats and ferret treats, you need to take a very careful look at the ingredient list.
Homemade Ferret Treats: Depending on the ingredients you use, homemade ferret treats are often the cheapest option. They can also be the safest because you know exactly what you put into them. Easy homemade ferret treats include bites of chicken and other meats or raw animal bones. However, you can also cook or bake your own treats with more ingredients, vitamins, and nutrients.
Ferret Treats – Ingredients To Look For And Ingredients To Avoid
You have a bit more leeway with treats than food when it comes to ingredients because your ferrets are eating them in smaller quantities. However, it is still important that you take a careful look at the ingredient list to make sure that you are not inadvertently giving your ferret anything that could hurt him.
The best treats for your ferret will include animal protein and fat. You should look for ingredients like chicken, turkey, lamb, and minced beef. Some people will even use the meat themselves as a treat. You can also look for added vitamins and nutrients that could benefit your ferret's health. Even things like raw animal bones can be a really great treat or an ingredient in a treat.
Perhaps what is even more important than the ingredients that you should be looking to be in the treats you buy, is the ingredient you need to avoid. First, you want to avoid dairy. Ferrets do not have the enzyme lactase, which means they are completely unable to digest dairy. If they do consume dairy, it can lead to health problems that can become serious and expensive.
You also want to avoid sugar. While you might enjoy a sweet treat every now and then, I can assure you that your ferret will not. Both real sugar and artificial sugar can lead to hypoglycemia, seizures, and liver failure.
Onions and garlic are also toxic to ferrets. Onions can cause hemolytic anemia, and garlic can cause your ferret's kidneys to shut down, both of which can be fatal if not caught and treated quickly.
Finally, you want to avoid fruits and vegetables for the most part. There are some fruits and vegetables that are fine in small quantities, like melons, bananas, carrots, and broccoli, but unless you are confident that the fruit or vegetable is fine for your ferret, it is best to avoid them entirely. Even the ones that are okay in small quantities offer little to no nutritional benefit.
How Many Treats Should You Give Your Ferret?
You will likely give your ferret the most treats during training. When you are using treats for training, you want to use small treats that are high in really good ingredients like chicken and other protein and fat sources. On the other hand, since you will be using so many treats, you want to entirely avoid treats that are high in grains or complex carbohydrates. If you are giving your ferret lots of treats for training purposes, you want to take that into consideration when deciding how much food to give your ferret.
References: