As far as grooming needs go, ferrets are relatively easy. You only need to brush them about once a week, brush their teeth about once every other week, and clip their nails about once a month. You will also need to occasionally give your ferret a bath, especially if the little troublemaker gets into something he shouldn't. When the time to give your ferret a bath comes around, you want to make sure you have the right kind of shampoo.
In this article, you will find a guide explaining everything that you need to know before picking out a ferret shampoo. You will also find explanations of five different ferret shampoos for you to consider and five different deodorizing sprays.
This post contains affiliate links, and I may be compensated if you make a purchase after clicking on my links, at no extra cost to you. Thanks!
5 Best Ferret Wet Shampoos Currently On The Market
You will not need to buy a lot of shampoo over your ferret's life because they do not need a bath all that often, but your ferret will inevitably make a mess or get into something they shouldn't and need a good scrub. When that time comes around, you are going to want a shampoo that you know is safe for your ferret. Below you will find five great shampoos that are safe options for your ferret.
Our Score
If you are looking for a shampoo that will help minimize those pesky musky odors that ferrets are known for, you might want to consider this shampoo by Ferretsheen. This 8-in-1 shampoo is specifically formulated with ferrets in mind, with a special emphasis on minimizing bad odors for longer.
A lot of shampoos that are advertised to act as a deodorizer for ferrets have a lot of artificial scents or essential oils added to them. Not only can these scents be pungent, but they can cause skin irritation or other health problems. Instead, the formula uses microencapsulated enzymes to minimize odors for longer.
However, deodorizing is not the only thing that this Ferretsheen shampoo does. It is also packed full of natural ingredients and additives with a whole host of benefits. First, it has aloe vera that can help soothe irritating skin and jojoba oil that moisturizes and hydrates. The shampoo is also meant to help shine and soothe your ferret's coat to help him look his best for longer.
Pros
Formulated to eliminate odors without irritating artificial cents or essential oils
Contains aloe vera to soothe irritated skin
Contains jojoba oil to moisturize and hydrate
Cons
This shampoo takes a long time to rinse out
Our Score
Petpost ferret shampoo is another deodorizing shampoo. Rather than adding lots of artificial scents to the formula to mask odors, the Petpost Ferret Shampoo has special OdorLock technology to completely eradicate the odors. The main ingredient that helps mask these odors is safflower oil, which is completely natural and safe.
Beyond the safflower oil, all the ingredients in this shampoo are all-natural and organic without any harsh chemicals or bleach, so you can trust that it is safe for your ferret. All of these different natural ingredients work together to clean, nourish, and moisturize your ferret's coat. There are also added ingredients to keep your ferret's skin healthy in addition to the fur.
Other benefits to the Petpost Ferret Shampoo are naturally keeping ticks and fleas away and protecting your ferret's fur from infection.
Pros
Safe and gentle formula
Naturally eliminates musky ferret owners
Formulated to keep your ferret's skin and fur healthy
Our Score
If you have a ferret that is especially sensitive to shampoos or has skin that gets dry and irritated easily, you might want to consider getting the Marshall Aloe Vera Shampoo. It is full of natural ingredients that you can trust won't irritate your ferret's skin. The shampoo is also completely free of all ingredients that are common allergens to ferrets.
Some of the main ingredients include aloe vera, which will help soothe your ferret's skin if he is already dealing with some irritation, eucalyptus, which keeps your ferret's coat soft and shiny; and safflower seed oil which is meant to naturally eliminate your ferret's musky scent.
 
This shampoo does all the major things that you might be looking for in a ferret shampoo. It cleans and deodorizes, smoothes and shines, and conditions.
Pros
Natural ingredients like aloe vera, eucalyptus, and safflower seed oil that will not irritate your ferret's skin
It will soothe skin that is irritated from other shampoos or problems
Does not contain any harsh chemicals or common allergens
Cons
Some find the scent to be too strong
Our Score
Mad About Organics Oatmeal Shampoo is not formulated specifically for ferrets but rather a wide range of small animals, including ferrets, cats, and rabbits. While it is generally not recommended that you use cat shampoo on ferrets, this shampoo is made out of all-natural, hypoallergenic ingredients, so it is safe for you to use with your ferret.
The ingredients are meant to soothe both your ferret's fur and skin. The oatmeal blend is also incredibly moisturizing, so it is a great option during the winter and cold months when your ferret's fur will likely dry out and get flakey.
The one thing that you do need to keep in mind is that the scent for the Mad About Organics Oatmeal Shampoo is made from a mix of different essential oils. These essential oils can be irritating for some ferrets.
Pros
Made or all-natural and hypoallergenic ingredients
Formulated to soothe, clean, and remove odors
Incredibly moisturizing, especially during the cold months when your ferret's skin dries out
Cons
The scent is a mix of different essential oils that can be irritating for your ferret
Our Score
If you are looking for a shampoo that provides a really good clean when your ferret gets dirty and becomes quite a mess, the Kaytee Squeaky Clean Critter Shampoo is a great option. This lathering shampoo works very well for a variety of small animals, which is one reason that a lot of small pet owners love it. If you have a bunch of different small pets, you can move from bathing one animal to the next easily.
Other benefits are that it is pH balanced to protect your ferret from irritation, it is tearless so it is perfectly safe if your ferret splashes around, and it does not include any essential oils.
The one negative thing about this ferret is that it does not treat fleas or ticks.
Pros
pH balanced to protect your ferret from irritation
Tearless so it will not hurt your ferret if it gets in his eyes
Works for a variety of different small animals
Cons
Does not treat for fleas or ticks
5 Best Ferret Dry Shampoos and Deodorizing Sprays For You To Consider
Some ferret owners prefer to use a dry shampoo and a deodorizing spray to get rid of unwanted smells because ferrets' skin might get irritated if washed with water too often. You will likely use the spray a lot more than you use the shampoo to help eliminate odor. Below you will find five options for ferret deodorizing sprays and dry shampoos.
Our Score
Kaytee Quick and Clean Critter Dry Shampoo is in between an actual wet shampoo and a deodorizing spray. You can use it a little bit more often than you can give your ferret a full bath, but you should still be careful not to use it too often because it does remove both dirt and oils.
The formula is simple and made with ingredients that will not irritate your ferret's skin or cause any kind of reaction. In fact, it is specially formulated to help soothe any irritation and itchiness that your ferret might already be experiencing.
It also eliminates and minimizes odor without any artificial scents or essential oils that could cause skin problems. A quick spray down with this dry shampoo will leave your ferret with a fresh baby powder scent.
Pros
Will loosen up dirt to help keep your ferret clean between baths
Made with ingredients that are not only safe but can soothe irritation and itchiness
No artificial scents or essential oils
Cons
You can't use it as often as most deodorizing sprays because it removes oils
Our Score
The Marshall Pet GoodBye Natural Waste Deodorizer is one of the most unique products on this list. Rather than eliminating odors on the outside, it works from within to minimize body odors, waste odors, and urine odors.
All you have to do is add a couple of pumps of this all-natural formula to your ferret's water, and not only will it eliminate musk, but it reduces pesky litter box smells. It does this through a mix of natural amino acids and enzymes that target and gets rid of all sorts of bad scents your ferret might produce, so you will have to bathe your ferret less.
It is 100% safe and natural. It is clinically proven, and veterinary tested and approved. The only bad thing is that it does not help hide or mask any bad smells that your ferret may roll in. You will still need a shampoo or deodorizing spray for that kind of problem.
Pros
100% all-natural and safe
Masks litter box odors in addition to body odors
Veterinary tested and approved
Cons
Does not help with smells your ferret might roll in
Our Score
The Marshall Foaming Waterless Shampoo is both a shampoo and a conditioner. It is a great option for messes in between baths because it allows you to remove dirt and freshen up your ferret's scent without completely stripping his fur of all his natural oils.
The reason that some people go with sprays rather than foams is that they can leave sticky residues or messes behind. This is not the case with the Marshall Foaming Waterless Shampoo. It is easy to use and does not leave any residue behind. Simply rub it through your ferret's fur, dry him off with a towel, and call it a day.
Pros
Cleans and conditions without stripping his fur of natural oils
Does not leave behind a sticky residue
Safflower seed oil naturally eliminates scents
Cons
Does contain added fragrance
Our Score
Marshall Pet Products Ferret Tea Tree Spray is a great option if you are looking for something to use between baths. The main ingredient is tea tree oil, but beyond that, it is full of natural ingredients that are perfectly safe for your ferret. It is formulated to prevent any irritation, itchiness, or allergic reaction.
Of course, the spray is meant to deodorize any musky odors that your ferret produces, but it also has a variety of other positive features. It will help prevent shedding or hair from falling out, it is meant to protect sensitive skin, and it keeps fur shiny, fluffy, and soft. It even helps remove ticks and fleas.
If you do decide to get the Marshall Pet Products Ferret Tea Tree Spray, they also have a spray conditioner that you can get. The conditioner is just as easy to use and will help you keep your ferret looking good and super soft when it is time to cuddle.
Pros
Made out of all-natural ingredients, including tea tree oil
Naturally deodorizes odors between baths
Helps remove ticks and fleas
Cons
Contains some essential oils which can irritate some ferrets
Our Score
The final cleanser on this list is the Citrus Magic Pet Foaming Cleanser. This is another mix in between a shampoo and a cleanser. All you have to do is put some of the foam into your hand, rub it through your ferret's fur, and let it do its job.
Without any water, rinsing, or mess, this cleanser will allow you to easily remove any dirt and deodorize any bad odors. It can even be used instead of shampoos unless your ferret gets into a bigger mess like mud.
It is all-natural, made from vegetable enzymes, so it is completely safe for your ferret. It is also fragrance-free. The one thing to keep in mind is that it can strip your ferret of oils, so it should not be used too often, unlike some other deodorizing sprays.
Pros
All-natural, made of vegetable enzymes
No water, rinsing, or mess
Allows you to both cleanse and deodorize your ferret easily
Cons
Does remove some of your ferret's natural oils
Do Ferrets Have Special Requirements When It Comes to Shampoos?
If you decide to get a pet ferret and start doing your research, you will notice that ferrets are very particular about a number of different things. They have sensitive digestive and respiratory systems, so you have to be careful about the kind of food and litter you get. They also have sensitive skin, so you have to be careful about the kind of shampoo that you use.
If you use the wrong kind of shampoo with harsh chemicals or ingredients your ferret is allergic to, it can cause skin damage. Major reactions can even be life-threatening. For this reason, you need to find a quality ferret shampoo that will clean off your ferret's coat when necessary, without stripping him completely of the natural oils that protect both his fur and his skin.
Things You Should Consider Before Buying A Ferret Shampoo
1. Deodorizing Effects
After ensuring that it is safe for your ferret, you want to make sure that you get a ferret shampoo that works. Ferrets are known for producing notoriously bad odors, so you want to get a shampoo that will help control said smells.
Additionally, if your ferret ever gets into something he isn't supposed to, you are going to want to make sure that you have a shampoo that works.
2. Hydration
When a ferret's skin and coat dry out, it can cause skin problems, irritation, and itchiness. You want to look for a ferret shampoo with some sort of hydrating ingredient in it to avoid these problems. Ingredients such as tea tree oil and aloe vera are both great, natural hydrating ingredients.
3. Natural Ingredients
Of course, the most important thing about the ferret shampoo that you choose is that it is safe for your ferret. Overall, you will be able to trust a shampoo that is made from all-natural ingredients, a lot more than one with a lot of chemicals or other harsh artificial ingredients.
4. Additional Benefits
Once you have made sure that the shampoos you are looking at have all the safety and functional features, you can move on to looking at other additional benefits. For instance, there are some ferret shampoos meant to add shine to their coat and others that soften fur.
How Often Should I Bathe My Ferret?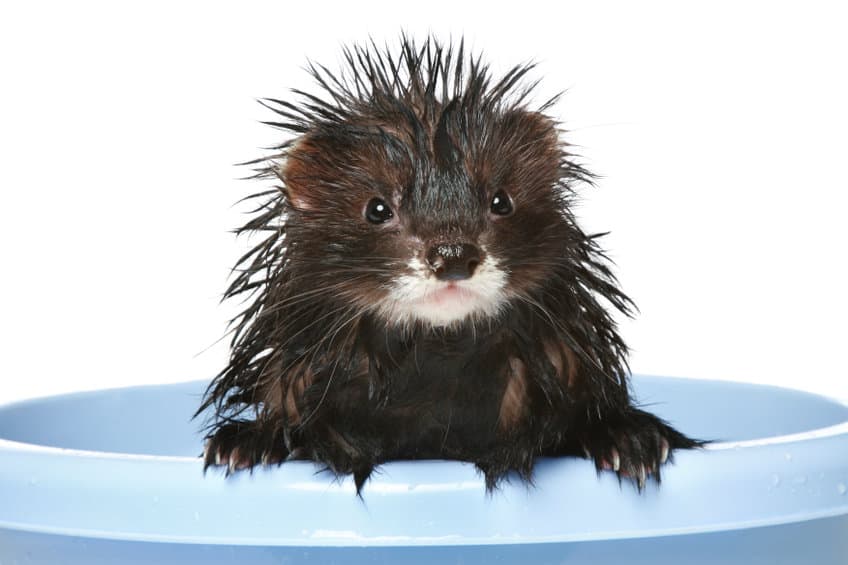 There are some people that a more sensitive to the odors ferrets naturally produce, so they feel tempted to bathe their ferrets quite regularly. However, this solution can backfire in addition to causing an array of different problems.
While a bath does temporarily reduce the scent produced by ferrets, their skin will work overtime to reproduce the oils that you stripped off the skin, which can actually make the scent worse. Too much bathing can also dry off the skin and cause problems.
Unless your ferret has gotten into mud or something else that needs to be washed off right away, you should only bathe your ferret every two to three months. At the absolute most, you should still not be bathing your ferret more than once a month.
During the actual bath, you should not completely submerge the ferret underwater. You also need to make sure that you rinse the shampoo out of your ferret's fur completely, or else it could cause problems.
Differences Between Wet And Dry Ferret Shampoos
Dry shampoo for an animal, including a ferret, is very similar to a dry shampoo that you might use yourself. It is a spray made out of powder that deodorizes and cleans up excess oil and mess. It can be a lot more convenient for you to use and a lot faster when you are in a rush.
However, it can be harder to find a dry shampoo that is safe for your ferrets. You should also not use a dry shampoo any more than you should use a wet shampoo. It is not just a deodorizing spray; it still removes oil.
On the other hand, a wet shampoo is a much more traditional pet shampoo. It is a liquid or gel that you lather your ferret with it after wetting him with water. There are more options, so it is a lot easier to find a wet shampoo that is safe and natural to use for your ferret.
Can You Use Cat and Dog Shampoo On A Ferret?
There are a lot of ferret owners that go to their local pet store and pick up any old cat or dog shampoo to use for their ferret. However, cat and dog shampoo is a very poor substitute. In fact, it would actually be better not to wash your ferret at all rather than use a cat or dog shampoo.
Dogs and cats have very different skin than ferrets. The natural oils produced by dogs and cats are a lot stronger than the oils produced by ferrets; therefore, they can stand up better to stronger chemicals and soaps. However, these shampoos on a ferret can cause skin damage or disease.
If you are really in need of a substitute for ferret shampoo that you can find at your local pet store, you can look for a shampoo specifically made for kittens. Kittens have more sensitive skin than adult cats or dogs, so kitten shampoos tend to be made with gentler ingredients. However, you should still take a careful look at the ingredient list.
Can You Use Baby Shampoo Instead Of Ferret Shampoo?
Though you should never use adult shampoo on a ferret because they are usually too strong, contain chemicals, or have irritating scents and additives, you can use baby shampoo for your ferret. Similar to ferrets, babies have very sensitive skin, so any shampoos meant for babies are going to be very gentle and will not contain any harsh chemicals, additives, or scents.
Some people actually find that baby shampoos are better for their ferrets than some ferret shampoos. If your ferret is having regular problems with dry, flakey, or itchy skin, you might want to give baby shampoo a shot.
What Are Ferret Deodorizing Sprays, and Are They Effective?
If your ferret is particularly smelly or has a particularly smelly cage, you might want to consider purchasing a deodorizing spray to use in between baths. There are some deodorizing sprays that also clean your ferret like a dry shampoo – though you should not use these any more often than you should give your ferret a bath. Other sprays either eliminate odors or mask them without stripping the ferret of any of their important oils.
As far as their effectiveness, you do need to evaluate each spray individually. Some sprays only work momentarily, while others are a great long-term solution in between baths. Many people who love ferrets but hate their smell swear by these kinds of sprays.
Things To Consider Before Buying A Deodorizing Spray
The things that you need to consider before buying a deodorizing spray are similar to what you need to consider before buying a shampoo.
The first thing that you need to consider is that the spray is made of safe and (if possible) natural ingredients. You will be spraying your ferret with one of these sprays semi-regularly, so you want to make sure that the sprays are completely safe and will not cause any allergic reactions or health problems.
The second thing that you want to consider is whether or not the spray actually works. The best sprays will completely remove or eliminate odors rather than simply masking them for a short period of time. You should also pick a scent or smell that you like since you will be smelling it regularly.
How Do You Use Ferret Deodorizing Spray?
Whichever deodorizing spray you choose will have instructions either on the bottle or in the box, and you should, of course, follow those instructions directly. However, all sprays are relatively the same.
First, if necessary, you will shake up the spray. Next, you should spray the deodorizer lightly all over the ferret's coat from about six inches away. You can use most sprays on either completely dry or damp skin. While spraying, you should avoid your ferret's eyes, mouth, and nose.
Most sprays can also be used on various surfaces like your ferret's crate, any furniture, or carpet. Lightly spraying these services with the deodorizer will help eliminate smells around your house.
References: