Picking out the right hamster bedding is a vital part of bringing home a hamster. Without the bedding, you can not set up the rest of the enclosure and you will not have a safe, comfortable place to keep your hamster. However, the sheer number of different bedding options can be overwhelming. What makes it even worse is not all of the beddings advertised for hamsters are safe for hamsters.
In this guide, you will find a guide to ten options for you to consider getting your hamsters. We will also go over everything that you need to know about picking out bedding for your hamster and explain exactly what hamster bedding is, why you need it, and what materials are safe for hamsters versus what materials you should avoid.
This post contains affiliate links, and I may be compensated if you make a purchase after clicking on my links, at no extra cost to you. Thanks!
10 Best Hamster Bedding – Real Reviews and Buyer's Guide
Our Score
This is the best bedding we tried. While pretty much all hamsters would love this super comfortable bedding, it is a particularly good option for Campbell Russian hamsters since they live in dry, grassy regions and this bedding mimics the grass and sheep wool bedding perfectly.
The problem with a lot of beddings that mimic grass and sheep wool is that they are made out of fluff which can be dangerous for hamsters. Kaytee Clean & Cozy Small Animal Bedding is made out of paper-based materials, making it completely safe while still mimicking what your hamster will likely instinctively want to burrow in.
It is also super absorbent, helps minimize odors, and is 99.95% dust-free.
Pros
No dyes, bleaches, or harsh chemicals
Mimics materials that hamsters in the wild use to create nests and burrows
Super absorbent and odor minimizing
Cons
Does have some fragrances which can irritate some hamsters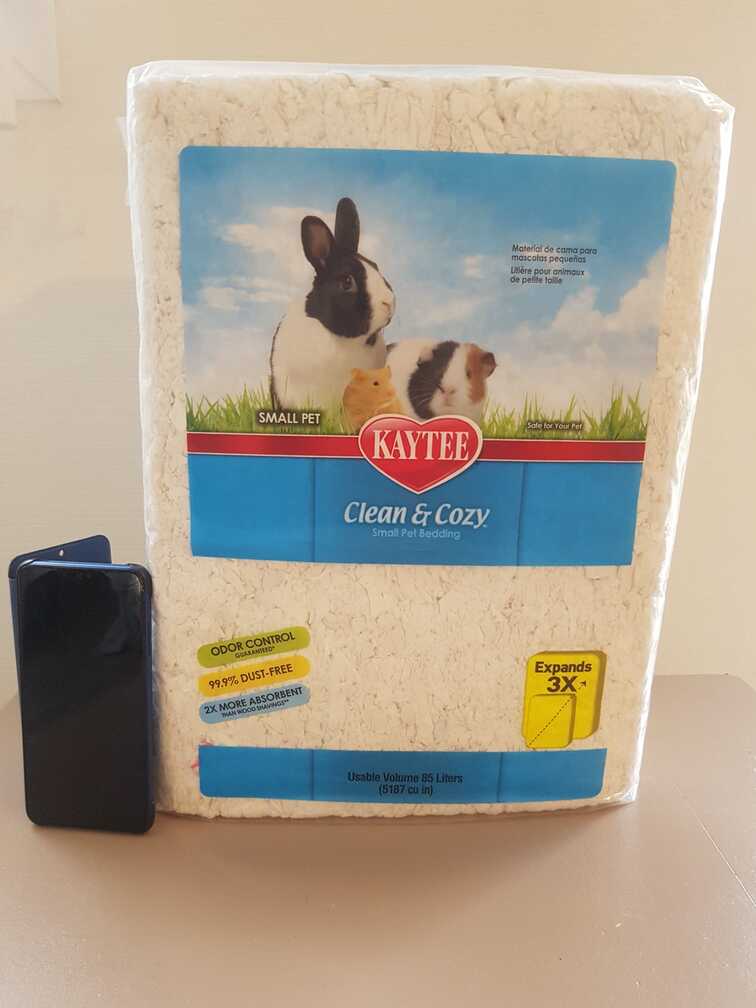 We were pretty impressed by the huge amount of bedding you get for the price. The bedding is quite compressed inside the bag so when you take it out of the bag you need to spend a few seconds tossing it gently around the cage to make sure there are no big clumps in your hamster cage. Our hamsters thrive in this bedding and it's one that did not trigger any allergies or coughing.
The pack is big enough to last at least 3 months – just do a spot cleaning every other day and change the whole bedding altogether every month. Another good thing is that the bedding is white so you can spot and remove any feces and urine instantly.
Our Score
A major concern with a lot of small animal beddings is dust. If the bedding that you choose creates a lot of dust, it can lead to a messy enclosure and even respiratory problems for your hamster. The good news is, Carefresh Small Animal bedding is 99.9% dust-free.
With this bedding, your hamster will be able to get plenty of uncongested rest before playing around in it all day (or night) long in a clean habitat. It is made from 100 percent natural fibers that are super soft, which makes it a great bedding option for burrowing animals of all types, including hamsters.
It is also completely free of harsh chemicals, so you do not need to worry if your hamster happens to nibble on a piece every now and then. Other benefits include the fact that it is super absorbent and great at minimizing odors.
Pros
10- day odor control
99.9% dust-free and completely safe for hamsters
Super absorbent material
Cons
Some people complain that the bedding itself has an odd smell
Our Score
How often you actually have to completely replace your hamster's bedding depends a lot on the quality of the bedding that you get. That is one of the main benefits of Vitakraft Fresh World Ultra Strength Small Animal Bedding.
This bedding is designed to stay fresh for 14 whole days. It is totally safe for hamsters, but it still locks in moisture and odors. You will still have to remove your hamster's mess every day, but you won't have to replace the whole litter every single week.
Not only will this long-lasting bedding benefit you, but your hamster will likely be happier and healthier without the regular stress of being moved and having his bedding up dumped.
Pros
Made from recycled, non-toxic paper (good for your hamster and good for the environment)
Dust-free and fragrance-free formula
Long-lasting bedding means fewer enclosure clean-outs
Cons
Packaged loosely so you may not get as much bedding per order as you think you are
Our Score
One of the best materials for bedding when it comes to animals who like to burrow is paper fibers. Paper fibers are super soft, which means they will not irritate your hamster's skin as he digs down into the bedding. Small Pet Select Paper Bedding is also dust-free, so your hamster will be able to sleep soundly all night long without any breathing problems.
Another great benefit of this bedding is that it expands 3x larger than the size it arrives as, so you will not have to be constantly buying new bedding. This also makes it the perfect bedding if you are wanting to give your hamster a tank-style enclosure with tons of space to burrow, tunnel, and dig.
Finally, this bedding is all white, which makes it super easy to see the soiled areas and spot clean without having to change out all the bedding, but it has never been bleached or processed with harsh chemicals, so it is still completely safe.
Pros
Expands up to 3x its size, so know you are getting a lot for your money
Made from soft, safe paper fibers that your hamster will love to burrow in
White coloring makes it super easy to spot clean, so you do not have to completely change it out
Cons
Does not offer much in terms of odor control
Our Score
Living World Wood Aspen Shavings is a hamster bedding made of completely all-natural aspen wood, so it is super safe for your hamster and the environment, unlike some other wood shaving beddings that are made of pine or cedar.
It is super absorbent and has been proven to effectively absorb up to four times its weight in moisture and mess, which definitely helps make clean up so easy. It is also free of artificial scents and harsh oils, which means it should not cause your hamster to develop any respiratory problems.
Hamster owners have also found that Living World Wood Aspen Shavings is a good bedding option if your hamster has already developed respiratory problems from other beddings because it is super easy on their little lungs. There are several reasons for this, but the main two are that it is both hypoallergenic and almost completely dust-free.
Pros
All-natural and non-toxic (it is even safe for your hamster to chew on it)
It is highly absorbent and helps trap odors in between cleaning
It is an affordable bedding
Cons
Wood shavings are one of the more messy hamster bedding materials
Our Score
If you find yourself particularly concerned about your hamster's odors but not wanting to compromise their health with harsh scents, consider Kaytee Extreme Odor Control bedding that helps keep off-putting smells to a minimum for up to fourteen days. The only downside is that the bedding itself has a slightly odd smell.
Another benefit to this bedding is that it is super soft, which means your hamster should still feel completely comfortable burrowing and digging down in it. This is great because sometimes you can find that the best beddings for minimizing odors are also some of the scratchiest and least comfortable for hamsters, but that is not the case for Kaytee Extreme Odor Control Bedding.
Finally, your hamster will not be happy, healthy, or comfortable if he cannot breathe because of dust. This is not a problem with this bedding because they have guaranteed that their formula eliminates 99.9% of the dust.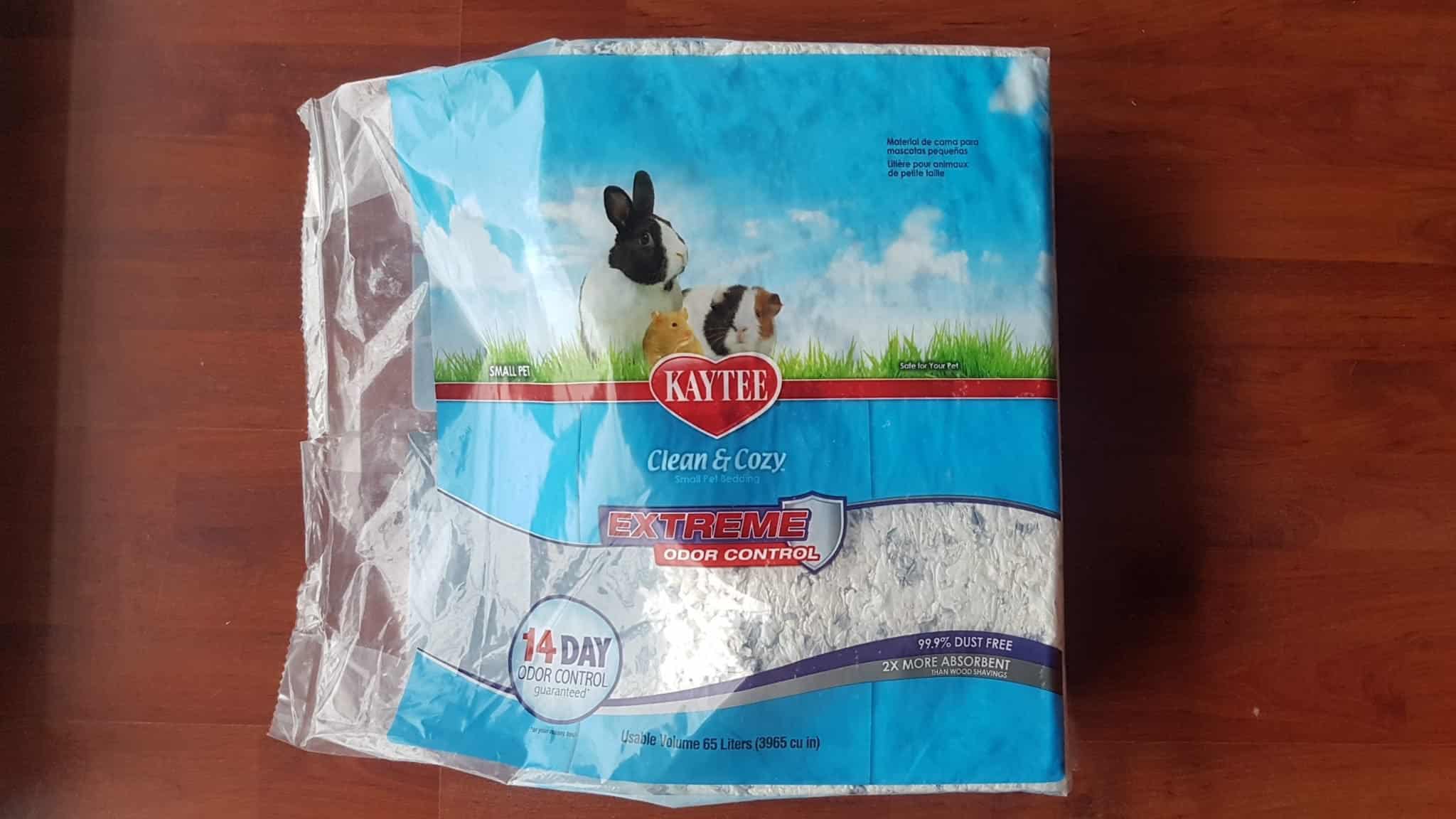 This is another excellent bedding option from Kaytee. Odor-free and dust-free, the only minor downside is that the small blue bits make it a little bit more difficult to do your daily spot cleaning inside the cage, as you might mistake your hamster poo for a piece of clean bedding – and vice-versa!
Pros
Completely safe and comfortable for small pets like hamsters
Super absorbent and odor minimizing (stays fresh for up to 14 days)
99.9% dust-free
Cons
The bedding itself has a smell that some people do not like
Our Score
There are several benefits to Oxbow's all-natural, soft bedding. First of all, it is great at eliminating odors that can build up over time in your hamster's enclosure. This means you will be able to go longer between cage cleanings without feeling like your whole room or house smells because of your hamster.
Oxbow Pure Comfort Small Animal Bedding is also super absorbent. It is said to absorb up to eight times its weight in moisture and mess, which makes cage clean-outs so much easier than less absorbent beddings that let the mess and moisture fall right through to the bottom of the enclosure.
Oxbow also puts their paper/bedding through regular purity tests to make sure that all the bedding that makes it into your hamster's enclosure is completely additive-free.
Pros
Helps eliminate odor to extend the time between cleaning
Absorbs up to eight times its weight in moisture
Completely additive-free
Cons
On the more expensive end
Our Score
OleyHemp Oh! Small Pet Hemp Bedding is one of the most unique hamster beddings on this list because it is not made out of any of the traditional materials, but rather it is made out of hemp. While it may not be the first material that pops into your brain when you think about hamster bedding, it is actually one of the best.
First of all, hemp is super absorbent. In fact, they have found that this hemp-based bedding is 7 times more absorbent than non-clay-based litters. It also does not climb when it absorbs moisture which means it is safe for your hamster, and you can flush it right down the toilet when it is time to clean it out.
It is also great for burrowing because it is super soft and chemical-free. Plus, it is very effective at regulating heat, so it will keep your hamster warm if your room gets chilly at night, especially in the winter.
Pros
Flushable, which makes cleaning up really easy
Super-absorbent but does not clump
Soft and warm, which makes it great for burrowing
Cons
Because of the smaller bag, it is one of the more expensive bedding options
Our Score
If you are looking for affordable paper bedding, Sunseed Fresh World Bedding is a good option. It is completely free of toxins and harsh chemicals, but it still minimizes odors with baking soda (so you want to make sure your hamster is not eating it.) You can also trust that it will help contain the mess as it absorbs up to three times its weight in moisture.
One downside to this bedding. It is significantly more rough than a lot of the other paper beddings on this list. It is not so rough that your hamster can't burrow or sleep comfortably, but there are definitely a lot more comfortable options out there. If you do decide to go with this bedding, just watch to make sure your hamster does not get irritated when burrowing down in it.
Pros
Can absorb up to 3 times its weight in moisture and mess
A non-toxic, chemical-free formula that uses baking soda to minimize odors
99.5% dust-free so it will not cause respiratory problems
Cons
It is rougher than other paper hamster beddings
Our Score
While this bedding is called bunny bedding, it is actually a great option for a range of different small pets, including hamsters. First of all, it is made out of coconut husk fibers which are both safe and comfortable for your furry friend and completely eco-friendly. When you clean out your hamster's cage, you can just throw the bedding in the compost or your garden.
It is also super absorbent (both with moisture and odor.) In fact, it is so good at minimizing odors that it even works for ferrets (known to be particularly smelly). Finally, it is long-lasting as it comes compressed in the bag and fluffs out to be enough bedding to last you a long time.
The one downside is its brownish color since it is made out of coconut husk. This can make it really hard to spot where your hamster has soiled, so you may have to just change out most of the bedding regularly rather than easily spot cleaning.
Pros
Coconut husk fibers are safe for your hamster and eco-friendly
Good and absorbing both moisture and odors
One bag should last you a long time
Cons
The brown color makes it difficult to spot clean
What Exactly Is Hamster Bedding?
If you are new to hamsters or small pets in general, you might not know what people are talking about when they refer to bedding. When people talk about hamster bedding, they do not mean getting your hamster a bed (though some people do get little beds for their animals), but rather the material that covers the bottom of your hamster's cage.
Hamster bedding can be made out of a variety of different substances. For instance, some hamster bedding is made out of wood shaving, paper, hay, etc. There are also hamster beddings called fluff bedding, but that is generally not recommended (see the section about what types of bedding you should avoid using for more information.)
Now, you might be wondering why you need to give your hamster bedding when they would not have shredded up pieces of paper to burrow in and live on in the wild. While this is true, hamsters in the wild use other things to burrow and build habitats like dried leaves or even directly in the dirt. So let's see why hamsters have this strong desire to burrow, even when they are domesticated.
Why Do Hamsters Need Bedding In Their Cage?
The main reason that your hamster is going to want bedding in his enclosure is to burrow in it. In the wild, hamsters burrow instinctually to stay warm, hide from predators, etc. Even domesticated hamsters keep this instinctive impulse to burrow, and not being able to do so could cause your hamster a lot of stress. So proper hamster care means monitoring your hamster's bedding every day.
However, there are some other reasons why you might want your hamster to have some bedding in his cage. For instance, bedding often helps absorb and minimize unpleasant odors that come along with owning a small pet. Bedding will also absorb and hold mess (like urine), so you do not have to completely clean out your hamster's cage every single day.
Additionally, the bedding will simply allow your hamster to be more comfortable in his environment when you set up his cage. You would not want to walk and lay on hard plastic or metal bars all day, every day, and your hamster does not want to either. Your hamster will appreciate having a comfortable surface to snuggle up and sleep on. Plus, the more comfortable and less distressed your hamster is, the longer he will likely live.
What is the Minimum Depth For Hamster Bedding?
When putting together your hamster's enclosure, you do not want to simply throw a little bit of bedding in to cover the bottom of the tank or cage and call it a day. Most hamster bedding is relatively inexpensive, so there is no need to be using it sparingly.
You want to put in enough bedding to cover your hamster's enclosure in a layer that is a minimum of two to three inches deep. This should be enough to allow your hamster to be comfortable, even if he pushes some of it down throughout the week.
However, when it comes to hamster bedding, deeper is almost always better, especially if your hamster likes to burrow. Many people recommend more like 5 to 8 inches of bedding, but some people add closer to 15 or even 18 inches of bedding.
What Are The Different Types of Safe Hamster Bedding?
It can be tempting to just go online or to your local pet store and pick out the cheapest hamster bedding you can get your hands on, but while getting bedding that is in your budget is important, it is also important that you get bedding that is safe for your hamster. Let's take a look at a few different materials that are safe for your hamster. The good news is, most of these are also budget-friendly.
Aspen Shavings: Wood shavings are one of the most common forms of bedding that you will come across because they are so inexpensive. However, not all wood shavings are okay for hamsters. For instance, woods like pine and cedar can be irritating or even dangerous for hamsters. On the other hand, woods like Aspen make great hamster beddings. However, aspen shavings are not always soft enough for burrowing.
Paper Litter: Paper litter is another pretty common hamster bedding. You can buy hamster bedding at the store that is made out of recycled paper, or you can make your own. One of the nice things about store-bought paper bedding is that they are usually more absorbent and odor-eliminating than wood shavings.
Timothy Hay: If you have been reading up on what your hamster needs to eat, you have likely discovered that Timothy Hay makes a great hamster snack, but it also makes great hamster bedding. It is not super absorbent, but it is soft, which makes it ideal for hamsters that love to burrow.
What Types of Bedding Should You Avoid Using For Your Hamster?
There are some bedding options that you need to avoid, even if they are advertised for hamsters.
Scented Bedding: The idea behind scented beddings is that the "good" scent will cover up all the bad odors that come with owning a hamster or another small pet. While you might like the scent, they are often too strong for hamsters and can even cause respiratory issues.
Cat Litter: Believe it or not, cat litter is actually a pretty common choice for hamster bedding. People usually go this route because it is relatively cheap, easy to clean, and odor-reducing. However, it can cause major issues if your hamster tries to burrow and actually ingests or breathes in some of the cat litter. If you are looking for a way to minimize odors, you can put a thin layer of cat litter at the bottom; just make sure to cover it with plenty of soft, safe hamster bedding.
Fluffy Bedding: Fluffy bedding is often sold in pet stores as nesting or burrowing bedding for small animals like hamsters. While fluffy bedding might sound like something your hamster would like, it can cause major health problems and blockages if your hamster ever tries to eat it, and hamsters commonly get their legs tangled up, resulting in injury.
Can You Use Bedding Made For Other Pets?
Yes, you will find that a lot of items made for one type of small animal can be used for other small animals. For instance, sometimes, a cage advertised for a rabbit can be used for a gerbil. This is also true when it comes to what kind of bedding you get for your hamster. You may find that you like a type of bedding advertised for gerbils, rabbits, ferrets, etc., best for your hamster.
Searching for hamster beddings is a good place to start, but you should be more concerned with things like what the bedding is made of than what kind of small animal it is advertised for. Just make sure that it can still provide for all the different things your hamster needs out of his bedding.
Should I Stop My Hamster From Eating His Bedding?
For the most part, you do not want to let your hamster eat his bedding. While you should get bedding that is non-toxic and therefore safe, it can still cause problems if your hamster eats a lot of paper or wood shavings.
If you are having a lot of problems with your hamster eating his bedding, you might want to consider getting a timothy hay bedding. Because hamsters can eat timothy hay, your hamster can munch on timothy hay bedding as much as he wants.
How Often Should I Change My Hamster Bedding?
When it comes to cleaning your hamster's habitat, there are some things that you should do daily, some things that you should do weekly, and some things that you should do monthly.
Every day you will need to scoop out any soiled bedding. Hamsters usually pick one or two corners in their habitat to go to the bathroom in, so this usually just means scooping out those corners and replacing the old bedding with new bedding. You should also wash the food and water bottles every day to make sure bacteria do not grow on the food or in the water.
Once a week, you are going to want to scoop out all of the bedding in your hamster's enclosure. At this time, you will also remove any food stores your hamster may have created since the last time you cleaned out all the bedding.
At least once a month, you will need to deep clean your hamster's cage. Move your hamster to a safe, temporary habitat, and then get started. Clean out all the bedding and debris, wipe out the enclosure, and clean any hideaways, toys, and accessories. Once everything is completely dry, put the habitat back together and move your hamster back in.
Can You Make Your Own DIY Hamster Bedding?
Yes, you can make your own DIY hamster bedding if you want. The simplest DIY bedding to make is just shredding up some paper. Sometimes this can save you money, but it can also be a bit of a time commitment.
You want to ensure that you are using paper that is safe for animals, which generally means you do not want it to have any ink on it. You can shred the paper by hand or with a paper shredder.
If you have a little bit more time to commit to making your hamster bedding, some hamster owners decide to make their own paper pellets. They do this by soaking the shredded paper, draining the water out, and then forming balls with the soaked paper pieces. Keep in mind you will need to leave time – possibly a couple of days – for the balls to dry completely before you can use them.
Bedding For a Cage VS Bedding For a Tank
When it comes to bedding for a cage versus bedding for a tank, there is not really a difference when it comes to the kind of bedding you need to get. Materials like aspen wood shavings, paper, and timothy hay are still safe options, while things like fluff bedding, cat litter, and scented bedding are not. However, there is a difference when it comes to how much bedding you will add and how you will set up the enclosure.
A lot of traditional wire cages for hamsters have a bottom that is a few inches high and made of solid plastic. You can only fill a traditional hamster cage with bedding as deep as this plastic portion. Any higher, and it will spill out over the sides. For this reason, if you are wanting to give your hamster lots of space to burrow and create tunnels as he would in the wild, you might want to use a tank.
With a tank, you can put the bedding in as deep as you like without fear of it spilling over the side. Some people even fill part of the tank up to one height and another up a little higher to create some variety.
Related Articles:
Resources and References: