What are the best hamster cages on the market today? There are literally hundreds of different models available to buy online and even more from your local pet shop. In this guide, we have reviewed the 10 best hamster cages that are available today in the U.S market, taking into consideration the needs of hamsters (such as overall space and bar spacing) as well as the easiness to set up and whether or not accessories are provided by the manufacturer.
By the end of this guide, you will know which cage to buy for your hamster, whether it is for one Syrian or several dwarf hamster breeds. Without further ado, let's start with the reviews of the top 10 hamster cages.
10 Best Hamster Cages Currently On The Market
Our Score
The Ferplast Favola Hamster cage is a great option if you are looking for something that already includes a lot of the accessories that you might need but comes at a lower price point. It comes with a food dish, water bottle, wheel, and little hideaway hut for when your hamster wants some privacy.
It is slightly smaller than recommended, but it has two levels in order to ensure that your hamster has plenty of space to roam and explore.
Another really cool thing is that it comes with a connection port that you can use to connect it to another hamster cage. This is great if you are trying to give your hamster more space to play or if you are wanting to keep multiple hamsters together and need to ensure there is enough space that they do not get aggressive and territorial.
It is also super easy to clean by just unlatching the clips and separating the base from the top.
Pros
Easy to take apart and clean
You can easily connect it to another hamster cage with a play tunnel
Comes with most of the accessories that you will need for your hamster
Cons
It is slightly smaller than the recommended hamster cage size
Our Score
The Living World Deluxe Habitat is on the more expensive end of things, but it really is a great option. It comes in three different sizes: standard, large, and extra-large. All three sizes are big enough for one hamster, and you could even consider putting multiple hamsters in the bigger sizes.
There is a number of great features that make the Living World Deluxe Habitat worth the higher price point. For instance, it already comes with a lot of the accessories that you would have to buy with some other enclosures.
It comes with both a water bottle that attaches to the side and a tip-proof food bowl that you can place on the balcony area to contain any mess.
Additionally, underneath the balcony is a built-in hideout. A lot of hamsters really appreciate a place where they can go for privacy and so they do not feel exposed while sleeping.
Pros
Plenty of space for your hamster to run and explore
It already comes with a lot of the accessories that you need
The top lifts up for easy cleaning and access, in addition to a side door
Cons
The wires may be too far apart for smaller hamsters
Our Score
f you are looking for an enclosure that is a lot of fun, the Kaytee CritterTrail 2-Level Habitat is a great option. This hamster cage has a lot of colors, and it is completely customizable and expandable.
In addition to the cage, they have lots of accessories and expansions that you can buy to give your hamsters more places to explore and play. They have an activity accessory set that includes a wheel, assorted tubes, and plenty of attachable habitats and rooms.
However, it is important to realize that you will need to buy at least some of the expansion packs and accessories right away to give your hamster a big enough cage. In fact, a lot of people start out buying at least two of the CrfitterTrail habitats in order to connect them and provide their hamsters with enough space. This can be a lot of fun, but it can get a bit pricey.
Pros
Completely customizable design
Fun to put together
It does come with some accessories, including a food dish, water bottle, and exercise wheel
Cons
You will have to buy at least two kits/habitats right from the start
Our Score
If you like the idea of customization and tunnels, but do not want all of the crazy colors or smaller size of the Kaytee CritterTrail hamster cage, you might want to consider the GNB hamster cage.
It comes in three colors (black, blue, and pink), and the tubes and accessories are all very minimally colored and also have breathing holes/ventilation built-in. Many people find this minimalistic design to be more aesthetically pleasing or easy to look at.
It is still slightly on the small side, but many hamster owners find that, with all the tubes that come with it, it ends up being big enough to keep a single hamster happy. Just one enclosure comes with lots of tubes to customize, and you can always connect it to one or more other enclosures if you want.
However, it does not come with any additional accessories like a food bowl, water bottle, or wheel, so you will have to buy those separately.
Pros
More muted colors/more minimalistic design
Comes with lots of tunnels for easy customization
It is super easy to assemble
Cons
Does not come with any extra accessories like a food bowl or wheel
Our Score
If you are wanting a more environmentally friendly or aesthetically pleasing hamster cage (and have a little bit more money to spend), the Ferplast Hamsterville Wooden Cage might be the perfect option for you.
Now, when you read the section on types of hamster cages, you know that hamsters can sometimes chew through wood, but that is not as much of a concern with this cage because the wooden frame simply surrounds a metal wire cage. That means that even if your hamster does chew on the wood, he will not be able to escape.
Nevertheless, you will still want to watch to make sure your hamster is not chewing on the wooden frame or wooden accessories too much because that can cause problems. To prevent this, just make sure that you provide your hamster with plenty of chew toys inside the cage.
Pros
The wooden frame and matching accessories look nicer than some of the plastic options
Comes with needed accessories like a food bowl, wheel, hideout, and water bottle
Multiple levels give your hamster plenty of place to explore
Cons
Your hamster might chew on any of the wood
Our Score
f you like the idea of giving your hamster tunnels and lookouts without having to spend a ton of time putting it together or customizing your own design, you should consider the AOCZZ hamster cage.
You can get this cage in black or blue, and both come with connecting tunnels and a little lookout or bathroom area if you want to litter train your hamster
The cage is also on wheels, so you can move it around your room easily whenever you need to clean (or perhaps to shut your hamster in the closet when he is spinning on the wheel and you are trying to sleep.)
However, keep in mind that this cage does not come with any accessories besides the tunnels and lookout. That means you will need to purchase things like a wheel, water bottle, food bowl, and toys separately.
Pros
It is on wheels, so it is easy to move around when you need
Comes with a tunnel and lookout/litter area that is easy to attach and detach
A door for access on both the front side and the top of the cage
Cons
Does not come with any extra accessories like a food bowl or wheel
Our Score
This cage is one of the most unique hamster cages on the market. The bottom of the hamster cage is like a traditional wire cage with a plastic bottom. It also comes with an attachable water bottle and a food bowl.
The top part of the cage, rather than an entire second floor, is a verticle obstacle course with ramps, a wheel, and a hide-out. Some hamsters love this design while others refuse to go up in the top at all, but it is easy to get from one place to another via an internal tunnel.
Another important note is this cage is on the smaller side, but you can easily expand it by connecting it through the port to other habitats/cages. You will need to buy the additional cages and tunnels separately, which can become a bit pricey.
Pros
Comes with accessories like the food bowl, water bottle, wheel, and hideout
Unique design allows you to easily watch your hamster play and exercise
Quickly customize this habitat by attaching it to other cages with tunnels
Cons
Some hamsters do not like the "arcade" portion and won't use it much
Our Score
If you are getting a small dwarf hamster and do not have a lot of space, the GalaPet Hamster cage could be the right option for you. It is also great for people on a budget because, for just fifty dollars, you get the cage, a wooden platform, wooden swing, wooden ladder, water bottle, and chew string.
It also comes with both an exercise wheel and a climbing area. Pretty much everything your hamster could need comes with this cage beside the bedding and actual food. It also has a handle, so it is easy to transport.
However, if you are getting a bigger hamster like a Syrian hamster or even just a Chinese hamster, this case will not be big enough. You may also find that dwarf hamsters that do not enjoy being out of the cage, like Roborovski hamsters, need a bigger enclosure than this.
Pros
Comes with almost everything that your hamster will need
Has a handle so that you can easily move it from place to place as needed
It is great if you have limited space
Cons
The size is only okay for a single, small dwarf hamster
Our Score
The MidWest Brisby Hamster Cage is actually really similar to the Ferplast Hamster Cage we reviewed earlier. It comes with a lot of the same accessories (a water bottle, food bowl, hideaway hut, and a wheel.) However, please keep in mind that the wheel does have grooves which some people find to be dangerous for hamsters.
Other positive features include the fact that it comes with a port that you can use to connect it to other habitats or turn it into a more modular kind of cage.
As far as size, it is also a bit small, but the bottom layer is 4.75 inches deep, which is plenty of space for bedding so your hamster can burrow as much as he wants. It also opens up easily whenever you need to replace said bedding or clean out the cage.
The wire bars are also well spaced, so you do not have to worry about your hamster getting stuck or making some great escape only to be stepped on or injured.
Pros
Super easy to clean by detaching the upper level 
It already comes with many of the accessories that you might need
You can customize it by adding more habitats to the port
Cons
The wheel does have grooves along the inside
Our Score
This hamster cage comes in three sizes, each with a slightly different design. For this review, we are mainly going to be focusing on the large hamster cage. It is a really cute cage that comes in three colors (orange, green, and blue) with coordinating accessories.
The accessories that come with this hamster cage are a platform, ramp, hideout hut, and an exercise wheel. However, the wheel is really small, so you will likely need to order a different wheel for your hamster to use instead.
As far as cleaning goes, it is really easy to clean because to top detaches from the bottom, though it is not as easy to access if you do not want to detach the entire top because the doors are rather small.
Finally, while it does come with a second platform, the upper level is not meant to hold bedding, so your hamster cannot both burrow and hide at the same time.
Pros
It comes in really cute colors and designs
Big enough for a small dwarf hamster
Easy to remove the top from the bottom for cleaning
Cons
The wheel is quite small, so you will likely have to buy another
8 Things to Consider When Buying A Hamster Cage
1. Types of Cage for a Hamster
Wire cages: When you think hamster cage, the picture that probably comes to mind is a small cage with a plastic bottom and wire top and sides. This is the most popular/common type of hamster cage, and it is also what you will likely get if your purchase a hamster care starter kit online or from your local pet store. They are generally relatively inexpensive, easy to assemble, and they offer your hamster a way to climb and explore without having to buy extra accessories. However, if the wire bars are too far apart, your hamster could escape, or if they are too close together, your hamster could get a foot or leg stuck and get injured.
Plastic Cages: If you do not want a wire cage, many hamster owners get plastic, modular cages. These hamster cages are made up of several small to medium size plastic rooms connected by plastic tubes and tunnels. These are great because they give your hamster a ton of places to explore, you can expand it as you go, and it allows you to customize your hamster's space the way you want. However, they can be a pain to clean, and not all elderly hamsters will have the energy to run through a bunch of tunnels every day.
Glass tanks: Some people also decide to get a glass tank and turn it into a hamster enclosure. These tanks are often great because they are easy to clean, but they can also be heavy, and you will need to ensure you provide your hamster with plenty of ventilation. Furthermore, if your hamster likes to climb, he might not enjoy the glass sides.
Plastic bins: Other hamster owners will make their own hamster cages using plastic bins or tubs and mesh for the top. If you are looking for a low-cost option, this is a great way to do it as long as you already have the tools you need to make one. You will need to make sure you buy a bin that is made out of durable plastic so that your hamster does not chew right through if he gets bored.
Wooden cage: One final type of hamster cage is a wooden cage. People usually get cages made of wood because they look better on the counter or table than a big hunk of plastic or metal wires do. However, your hamster will be able to chew its way through wood really easily, so it is not really a great or safe option. If you are wanting the look of the wooden cage, you could consider adding wood detailing or framing to a metal wire cage.
2. Size
There is a couple of reasons why the size of a hamster cage is important. First, your hamster is going to need plenty of places to run and explore for exercise purposes. If he does not get enough active time, he may go stir crazy or become unhealthy.
Another reason your hamster needs enough space is for his mental health. You may not originally think about mental health when it comes to hamsters, but if they are stuck in too small a space for too long, they may get anxious or depressed.
The general rule of thumb for hamster cages is a minimum of 24 inches by 12 inches and 12 inches tall. For Syrian or Chinese hamsters, you probably want to at least go a little bit bigger than that because they are bigger hamsters. However, with all breeds of hamsters, bigger is better, so you should buy the biggest hamster cage that you can afford and have space for.
3. Bar Spacing
When talking about wire/metal cages, we mentioned that bar spacing is important for your hamster's safety. You generally want the bars to be a maximum of 1/2 an inch apart. Any bigger, and your hamster (especially dwarf hamsters) will likely be able to wiggle out through the spacing.
On the other end of the spectrum, you do not want to go narrower than a 1/4 of an inch, or your hamster might get a leg or paw stuck and end up with a serious injury.
4. Levels
If you have reduced counter or floor space, a great way to provide your hamster with more places to exercise and play is by getting them a cage with multiple levels. This is not necessarily required for hamsters (though it is necessary for some small animals), but it is a great way to ensure that your hamster has enough space.
5. Accessories
When you purchase your hamster's cage, you are going to need to get some different items/accessories to go with it. If you buy a kit of some sort, there is a chance that some of these items will come in the kit. You will need things like a water bottle, food bowl, wheel for exercise, bedding for the bottom from day one. When it comes to things toys, you can buy them as you go along.
6. Price
There is a huge range when it comes to the cost of hamster cages. You can get pretty good hamster cages ranging all the way from around $40 to $150 or more. Keep in mind that more expensive is not always better. Some cages are simply pricier because of the brand name or appearance of the cage.
On the other hand, sometimes a higher price tag can mean it is more durable or comes with extra accessories like a food bowl, water bottle, or wheel. When looking for hamster cages, of course, pick your budget, but then pay more attention to the description and reviews than the actual price tag.
7. Number of Hamsters
If you are going to try to put multiple hamsters in one cage, you should limit it to two. Any more than that, and the hamsters could get territorial, aggressive, or even anxious. You should also only do this with some hamsters. For instance, dwarf hamsters often love to live with other hamsters because they are very sociable. On the other hand, both Syrian and Chinese hamsters are pretty much always happier when left on their own.
8. Type of Hamster
There are five really common hamster breeds that you will likely come across. The most popular are the Syrian hamsters. They are bigger than a lot of the other species and usually build a strong bond with their owners, which can be a lot of fun. However, if you get a Syrian hamster, you are going to need a bigger enclosure and a separate enclosure for each hamster that you have.
Another common type is the Chinese hamster. These hamsters are much smaller than Syrian hamsters and are almost like mice with their high energy and playfulness. They need more regular interaction than some other breeds, and you will need a sturdy cage to ensure they do not chew right out when bored.
The final three breeds are all dwarf hamsters. There is the Dwarf Cambell Russian Hamster, the Dwarf Winter White Russian Hamster, and the Dwarf Roborovski Hamster. All of these hamsters have slightly different looks and temperaments, but they are all very small.
If you want a hamster that is more sociable, the Cambell or the White Russian is likely your better option out of the three. On the other hand, if you are looking for a low-maintenance pet, the Roborovski is great. All you have to do is set him up a fun enclosure with plenty of space, and he will be as happy as can be.
Are Cages Good For Hamster?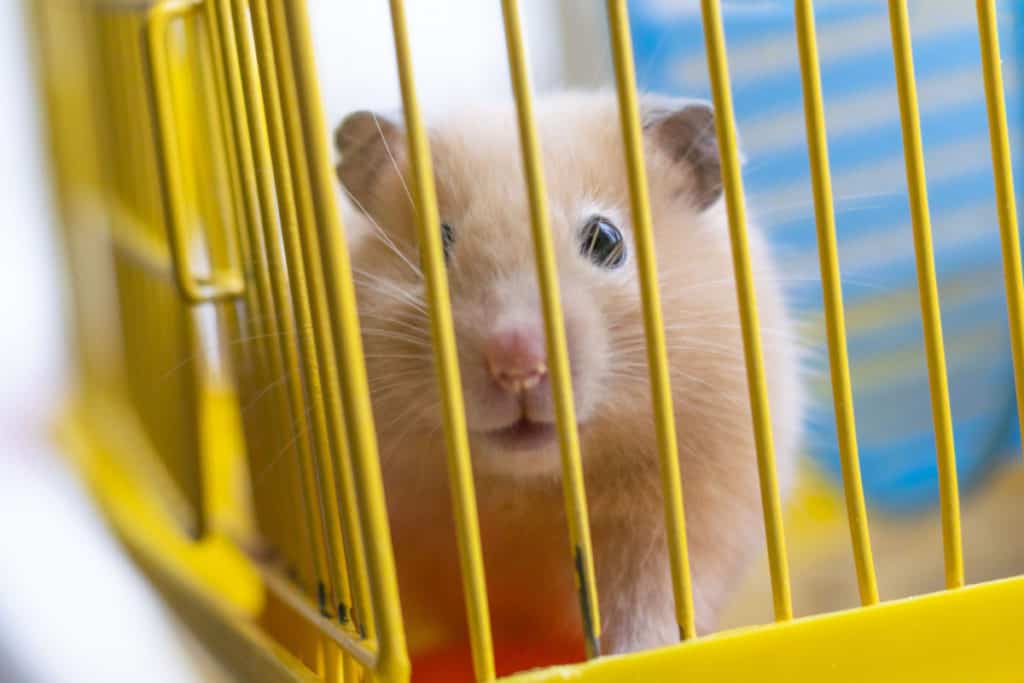 With the idea that bigger is always better, you may be left wondering whether or not you could just let your hamster roam around the room or even the house. That would surely give them plenty of space, right? But the truth is, a hamster cage is really important for your hamster's overall well-being.
First, the enclosure protects your hamster from predators like other household pets or even small children. It also provides your hamsters with a place to burrow. Furthermore, you likely will not enjoy the constant mess and destruction you are cleaning up if you just let your hamster roam wherever the wants.
Should I Put My Hamster Cage On the Floor?
Whether you put your hamster's cage on the floor or on a piece of furniture is really up to you. Putting a hamster cage on the floor is a good option if you do not have other pets (dogs, cats, etc.) that will come up and mess with the enclosure. If you do, being on the floor could stress your hamster out. On the other hand, if you are going to put your hamster's cage up on a piece of furniture, you need to pick something sturdy that will not wobble or fall.
Where Should A hamster Cage Be Placed In the House?
When you are trying to pick a place for your hamster's cage, there is a variety of factors that you need to consider. First, you want to keep your hamster's cage in a relatively quiet spot. Hamsters spend most of their day sleeping, and if they cannot due to noise, they will likely get irritable just like humans do. You also want to keep your hamster away from anything that produces ultrasounds like electronics and pipes because they can stress out your hamster.
Furthermore, you want to put your hamster in a place that is both light and temperature controlled. Too much change in lighting (constant switching lights on and off) or temperature can disturb your hamster. For this reason, places like garages, laundry rooms, hallways, and high traffic areas are generally not a great option. Garages and laundry rooms also usually contain a lot of dust and chemicals that can be harmful to hamsters.
Places like closets (as long as there is air conditioning/heating and some lighting) are a great option for hamsters. Hamsters are also usually happy in bedrooms, though you might not be if you give your hamster a noisy wheel to run on all night long.
Do Hamster Cages Smell?
Any kind of small animal enclosure can start to smell if you do not regularly clean or deodorize it. However, hamsters are not considered naturally smelly creatures, so as long as you keep the cage clean, it should not be too bad.
Keep in mind that everything in the enclosure can carry a smell, so when it is time to clean, you need to clean everything. This means you will need to regularly change out the bedding, clean the food bowl and water bottle, wash any toys, and wipe out the enclosure after everything is removed. Try to have a safe place where you can put your hamster (fenced in on the floor or in another cage) while you clean it.
Which Is Better: Hamster Cage or Hamster Tank?
In the section about the different types of hamster cages, we mentioned that you could use a glass tank or plastic bin (which is like a tank) as a hamster cage rather than something more traditional like the wire cage. Hearing about all the different types of cages to choose from can be a bit overwhelming and might leave you wondering if a traditional cage or a hamster tank is better. The truth is, it really depends a lot on what you are specifically looking for.
Tanks are great if you are looking for something that is easy to clean. All you have to do is dump them over and then wipe them out. On the other hand, a wire hamster cage gives your hamster something to climb onto, and a modular hamster cage provides your hamster with a ton of space to play and explore, but both are harder to clean than tanks.
Can Hamster Cages Be Next To Each Other?
We have already gone over how many hamsters can live in the same tank or cage, but what about just placing their separate tanks next to each other? The answer to this is yes; most of the time, it is perfectly fine to have multiple hamster cages next to each other. It should not stress them out at all, and they will likely spend most of their time completely ignoring that the other one is even in the area.
However, there is an exception to this rule. If your hamsters are not fixed, you are never going to want to place a cage with a female in heat near a cage with a male. You do not even want to place the two in near proximity to each other because any time a male can smell a female in heat, he will become more aggressive and do everything he can do to get to her. This can stress out both your male and female hamsters.
Can I Cover My Hamster Cage With A Blanket?
You might be thinking about covering your hamster's cage at night with a blanket to block light, help him sleep, or contain sound, but it is best not to do this. Any time a hamster has something draped over his cage, he is likely to chew on it or try to drag it into the cage. Not only does this create quite a mess for you, but it can lead to your hamster digesting fabric which can be dangerous and even fatal.
The only time that you might want to consider covering your hamster's cage with a blanket is if you lose power and are concerned about it becoming too cold for your hamster. A blanket can help you provide your hamster with some extra insulation, but you should carefully watch to make sure he is not eating the blanket. Furthermore, you should always ensure that your hamster has some amount of ventilation, so he does not suffocate over time.
What Cages Are Bad For Hamsters?
There are a couple of different things that make a cage bad for hamsters. The first thing is if the cage is too small, There are a lot of critter cages (some even advertised for hamsters) that are way too small for hamsters. Too small of a cage could lead to your hamster going stir crazy or experiencing distress.
You also want to avoid any cages with metal/wire bottoms. A hamster's feet and body can get seriously hurt by constantly walking and laying on the metal wires. If your hamster's cage has a metal wire bottom, you are going to want to cover it with some sort of tray and plenty of bedding.
You also want to avoid any tunnels or tubes that are too small or go straight up because your hamster could get stuck in them.
How Often Should I take My Hamster Out of the Cage?
There is some debate around how much time hamsters need to spend out of their cages and/or with their owners. The answer seems to depend a lot on the breed of hamster and your individual hamster. Some hamsters are very sociable and love to spend time out of the cage or with their owners.
For instance, Syrian hamsters seem to often build a bond with their owners and like time out of the cage. On the other hand, some hamsters like the Roborovski Dwarf Hamster seem to be happier being left alone as much as possible. Furthermore, hamsters with bigger cages or another hamster in the cage may be able to go longer without time outside of the cage.
Can I Use Other Small Animal Cages For My Hamster?
So what about cages that are advertised as rabbit cages or gerbil cages, or even chinchilla cages? Can you use those cages for your hamster?
Most of the time, you can use cages meant for other small animals for your hamster. A lot of small animals have very similar enclosure requirements, so their cages are often interchangeable. However, if you are going to go this route, you need to be extra sure to check that all the safety features hamsters need are included. Pay special attention to things like bar spacing because bigger rodents may have cages where the bars are much farther separated.
What Is The Best Syrian Hamster Cage?
For Syrian hamsters, you do not need as big of a cage as you would need for multiple hamsters, but they are a bigger breed so you will want to make sure you give your hamster plenty of space. Two great options for this are the Ferplast Favola Hamster Cage and the MidWest Brisby Hamster Cage. Both of these cages have two levels, so you know that your hamster has plenty of space to explore.
What Is The Best Cage For Large Hamsters?
If your hamster is uniquely large, you should definitely consider getting the Living World Deluxe Habitat. While it is a bit pricier, it will offer your hamster plenty of space to roam and explore, plus it comes with a lot of the accessories that you need. Additionally, the main concern was that the bars were a little far apart, which would not be as big of a concern with a larger hamster.
What Is The Best Cage For 2 Hamsters?
If you are considering putting two hamsters in one cage, we recommend cages that can connect together with a port and tunnels. This way, you can connect two or more separate habitats, and you can provide each hamster which her own food, water, and toys. This should prevent any territorial tendencies or aggression problems. Consider things like the GNB Pet Hamster Cage or Ferplast Favola Hamster Cage.
References: