Generally speaking, rodents make really great first pets. They are rather easy to take care of, can be contained in a cage when you are busy, and have pretty simple diets. However, some rodents are significantly easier and therefore better for someone with no previous experience.
In this article, you will discover the 10 best beginner rodent pets, along with a few factors that will help you choose the rodent that is right for you.
10 Best Beginner Rodent Pets – A Complete Guide
| Name | Average Lifespan | Average Size | Average Price |
| --- | --- | --- | --- |
| 1- Guinea Pig | 4 – 8 years | 8″-16″ | $20-$50 USD |
| 2- Mongolian Gerbil | 3 years | 4″-5″ | $5-$20 USD |
| 3- Fat-tail Gerbil | 5 – 7 years | 4″ | $20-$10 USD |
| 4- Syrian Hamster | 2 – 3 years | 5″-7″ | $5-$10 USD |
| 5- Dwarf Hamster | 2 – 3 years | 2″ | $20 USD |
| 6- Chinese Hamster | 2 – 3 years | 3″-5″ | $15-$20 USD |
| 7- Mouse | 1 – 2 years | 2″-3″ | $15 USD |
| 8- Rat | 2 – 3 years | 10″-11″ | $25-$100 USD |
| 9- Degu | 6 – 8 years | 10″-12″ | $30-$300 USD |
| 10- Chinchilla | 10 – 15 years | 9″-19″ | $150-$350 USD |
1- Guinea Pig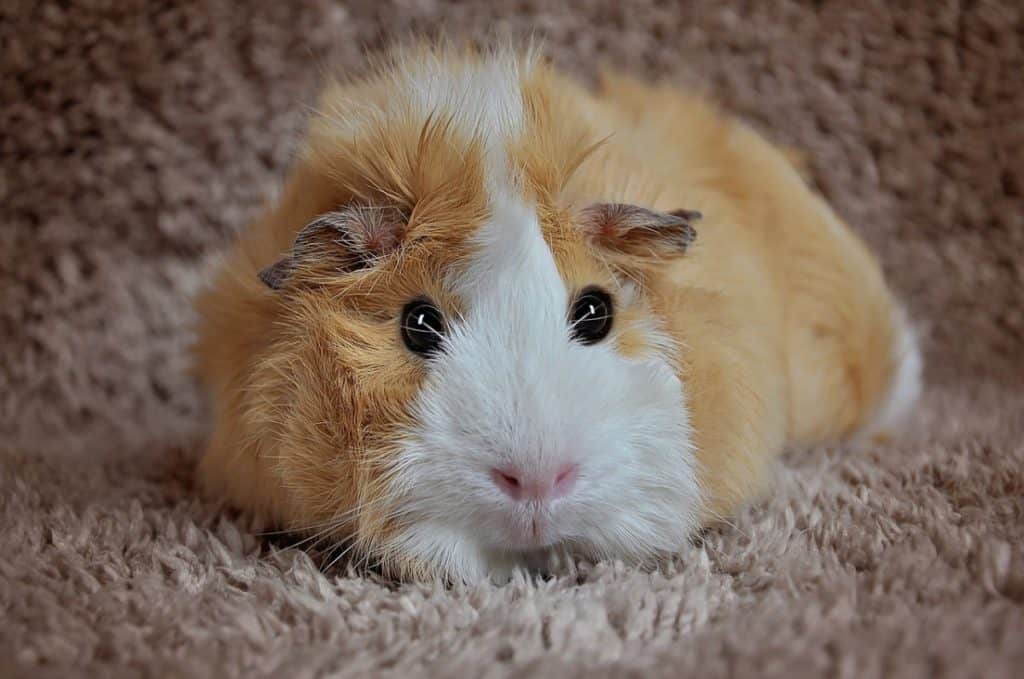 Guinea pigs are great beginner pets. They have fun personalities and live longer than some of the other pets on this list, which means you can have a lot of fun with them. They have relatively easy diets as they can live off of primarily hay and pellets with some fresh produce thrown in. They do not need a ton of space, but they will enjoy being out and held by you as often as you want. They are social creatures, so you will need to get multiple guinea pigs if you are getting one.
Average Size: 8 – 16 inches
Lifespan: 4 – 8 years
Price: $20-50
2- Mongolian Gerbil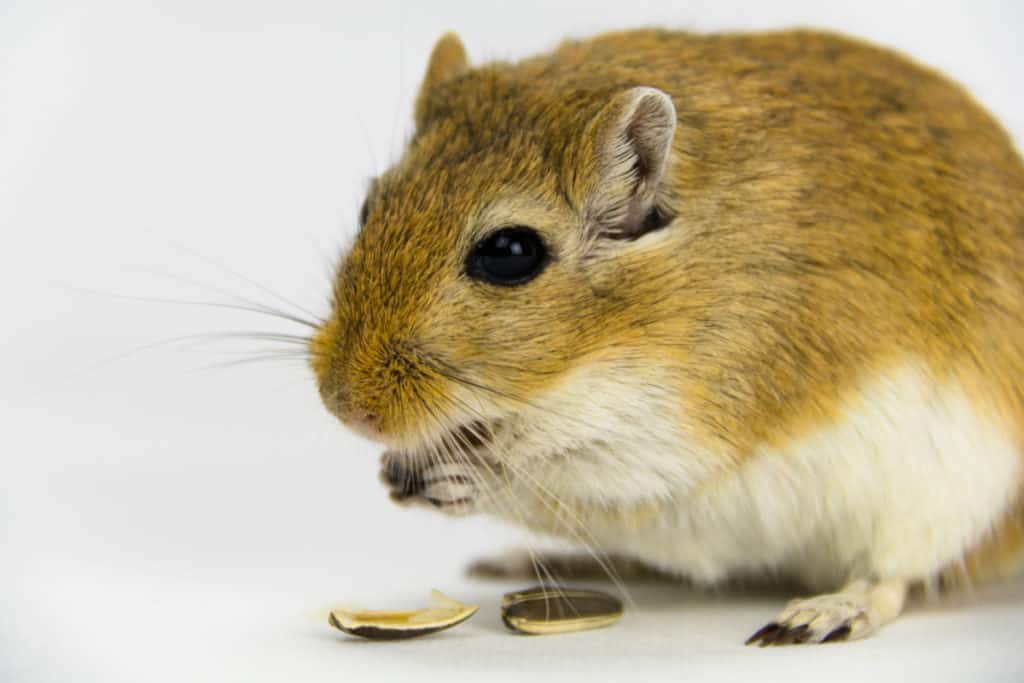 Mongolian gerbils can be really fun pets for first-time and veteran owners alike. They are small, spirited, and quite friendly. Some gerbils are even known to be quite affectionate with their owners. They are also known to be relatively easy to care for. All you really need to do day-to-day is give them fresh food and water. Furthermore, while you should regularly spot-clean the cage, you really only have to do a full cage clean once a month.
Average Size: 4.5 inches
Lifespan: 3 years
Price: $5 – $20
3- Fat-Tail Gerbil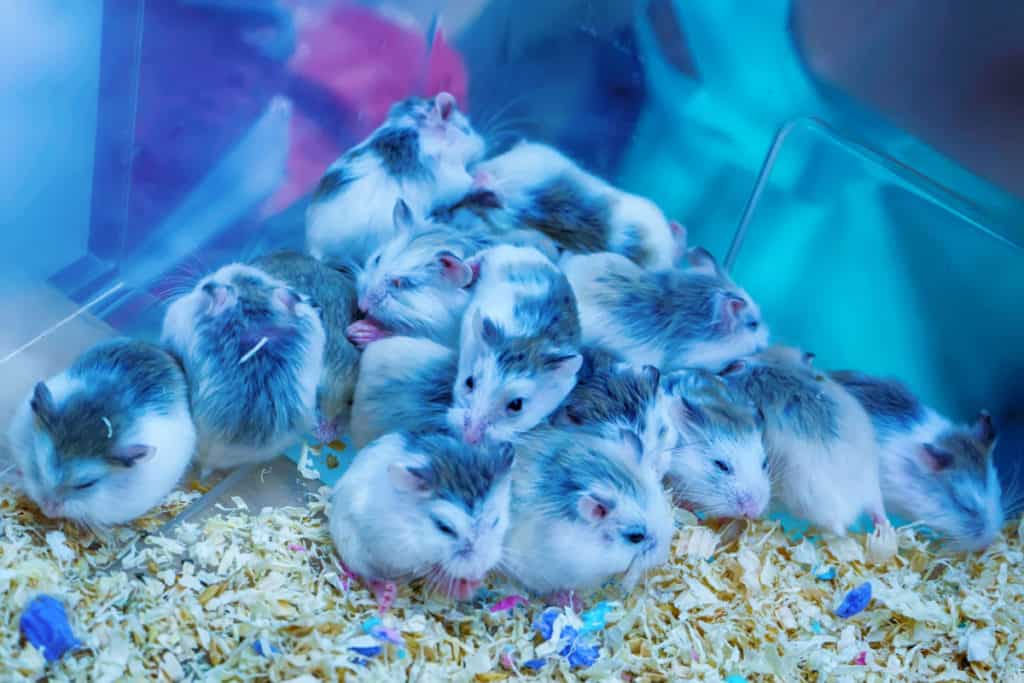 Another type of gerbil that you could consider is the fat-tailed gerbil. These gerbils are great for beginner adults or older children responsible enough to care for one. Gerbils, in general, are one of the more active species on this list, but the fat-tailed gerbil is known for being one of the calm breeds, which may be better for beginners. Fat-tailed gerbils do enjoy gerbil food that you can buy at your local pet store, but they will also really enjoy as an occasional treat a cricket or mealworm.
Average Size: 4 inches
Lifespan: 5 – 7 years
Price: $20 – $40
4- Syrian Hamster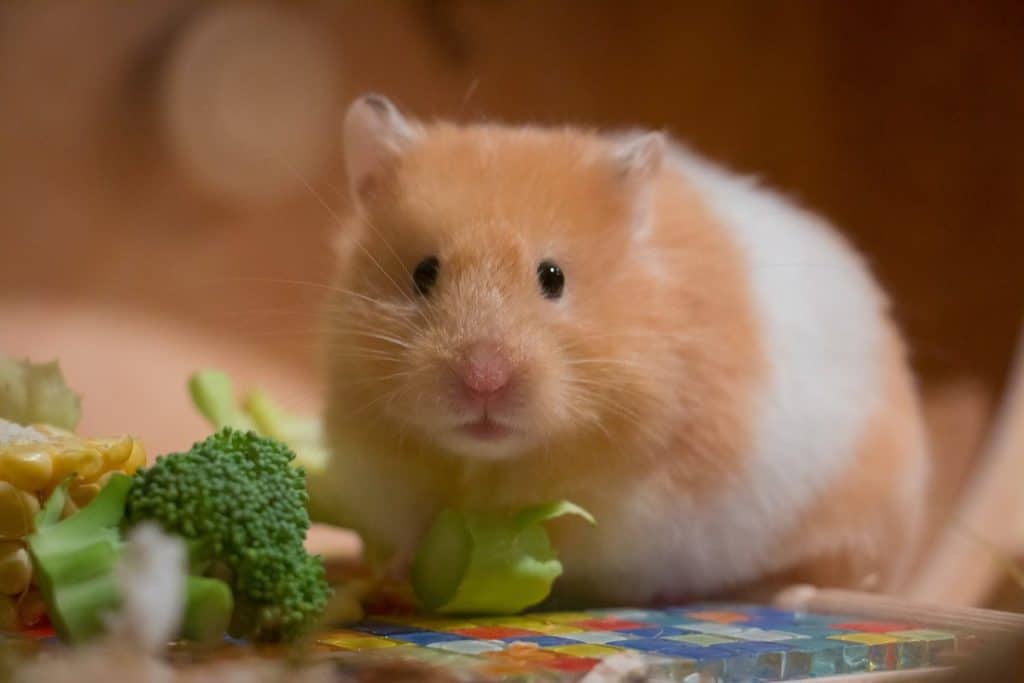 Syrian hamsters, which are commonly referred to as golden hamsters, make great beginner pets and are actually one of the most popular choices for pet rodents. They are generally very gentle creatures and are extremely fun to watch. Additionally, Syrian hamsters are rather low maintenance, so they are often a great place to start. Keep in mind that they are nocturnal, so they may be quite active and noisy when you are trying to sleep.
Average Size: 5 – 7 inches
Lifespan: 2-3 years
Price: $5 – $10
5- Dwarf Hamster (Campbell / Djungarian / Roborovski breeds)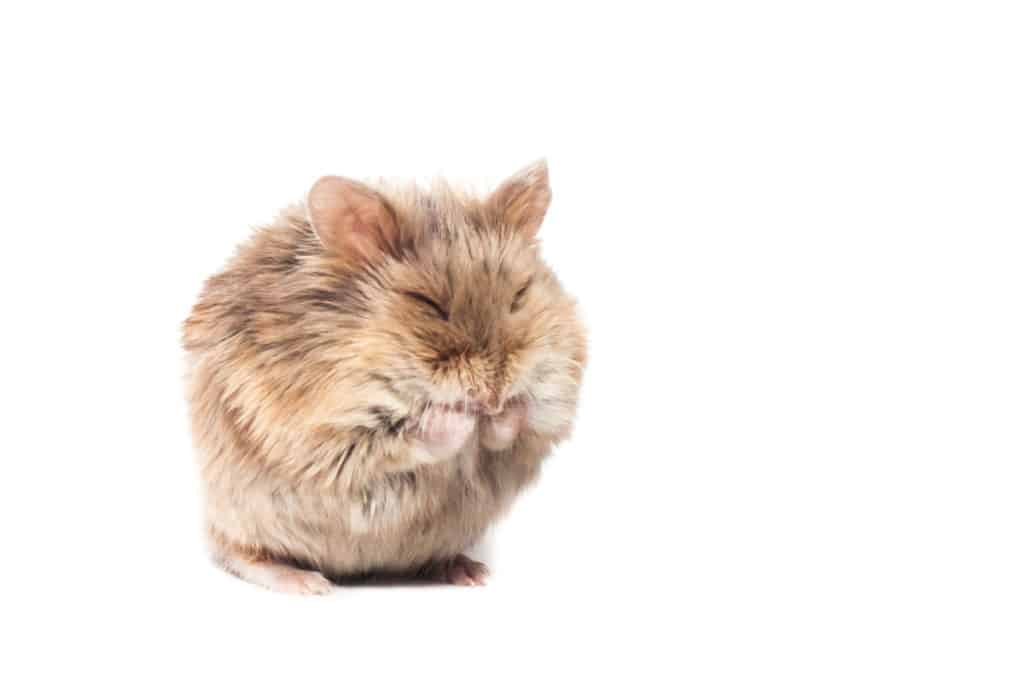 Dwarf hamsters are small, low-maintenance pets which is what makes them such a great option for beginners and even some older children and teenagers. Keep in mind that they may nip if they feel annoyed or pestered, especially after first waking up. Additionally, just like the Syrian hamster, they are nocturnal. Nonetheless, they are one of the cutest (and smallest) animals on this list, which makes them a favorite for many people.
Average Size: 2 inches
Lifespan: 2 – 3 years
Price: $20
6- Chinese Hamster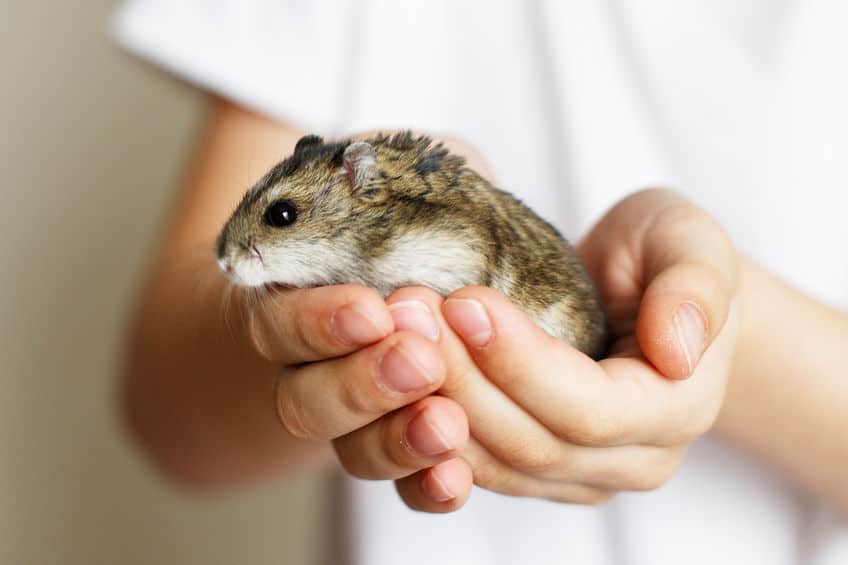 Chinese hamsters are pretty simple when it comes to maintenance as they are perfectly happy eating food that you can find at most pet stores and do not require much space. In the beginning, your new hamster might be a bit skittish or nervous, but pretty quickly they become pretty tame and gentle.
Average size: 3 – 5 inches
Lifespan: 2 -3 years
Cost: $15 -$20
7- Fancy Mouse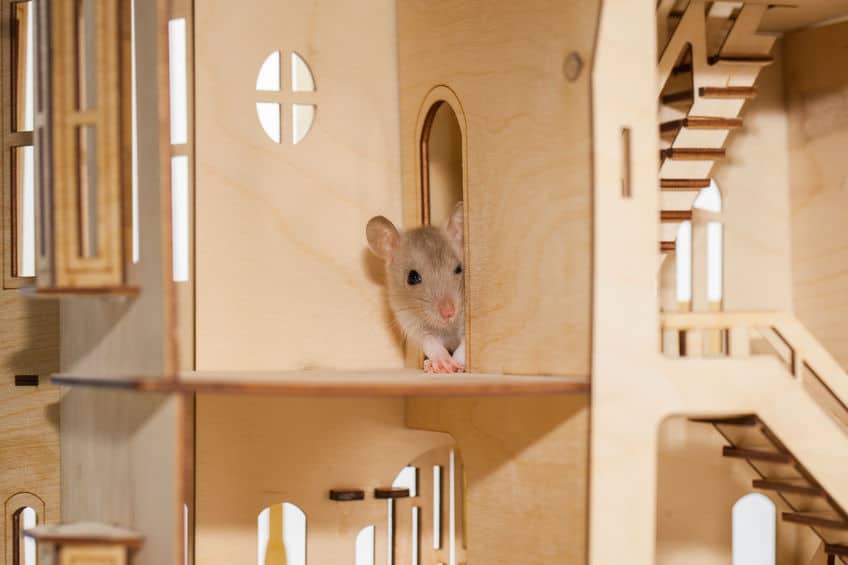 Mice can be really fun first pets, and one of the easiest breeds of mice is the fancy mouse. Fancy mice are generally relatively easy to tame and will become quite friendly within a couple of weeks. In fact, after four days, your fancy mouse will probably be used to you enough for some handling. Just makes sure to give them time to get used to your face, voice, and smell. Males should be kept by themselves as they get territorial, but female fancy mice often love living in pairs, trios, or small groups as long as you give them enough space and food.
Average Size: 2-3 inches
Lifespan: 1 – 2 years
Price: $5 – $15
8- Fancy Rat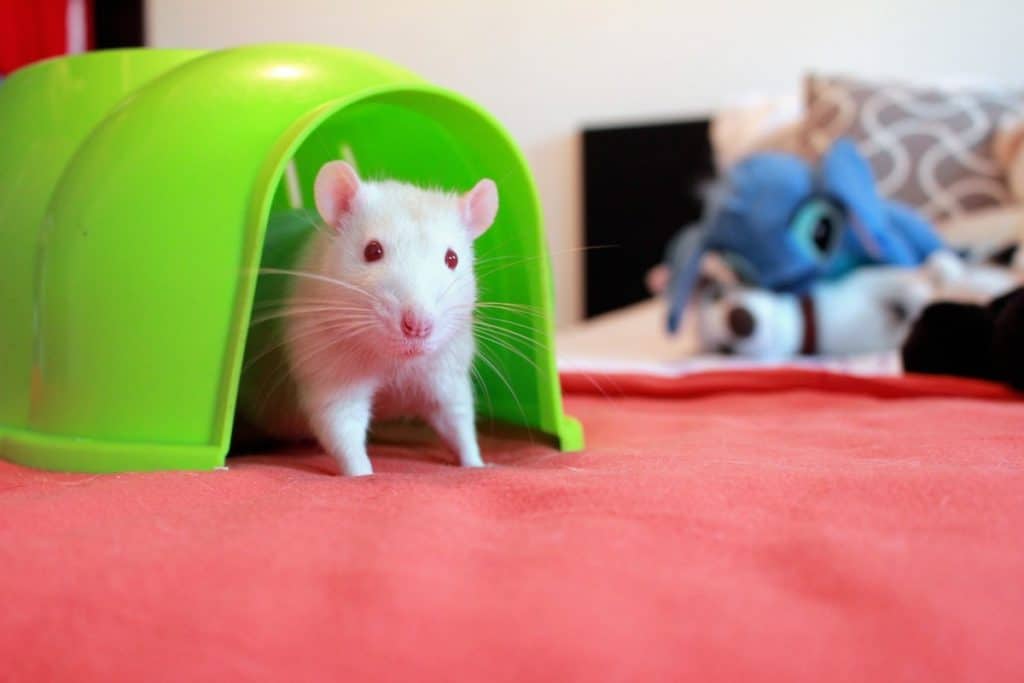 Similar to the fancy mouse, fancy rats make great beginner pets. Rats are actually becoming more and more popular amongst rodent owners because they are low maintenance, easy to tame, and have great personalities. Rats are also extremely intelligent, so with some time, you may even be able to teach your rat some tricks. For your rat to thrive, you will need to get multiples, though you will want to give them plenty of time outside of the cage to prevent them from getting agitated with each other.
Average Size: 11 inches
Lifespan: 2 – 3 years
Price: $25 – $100
9- Degu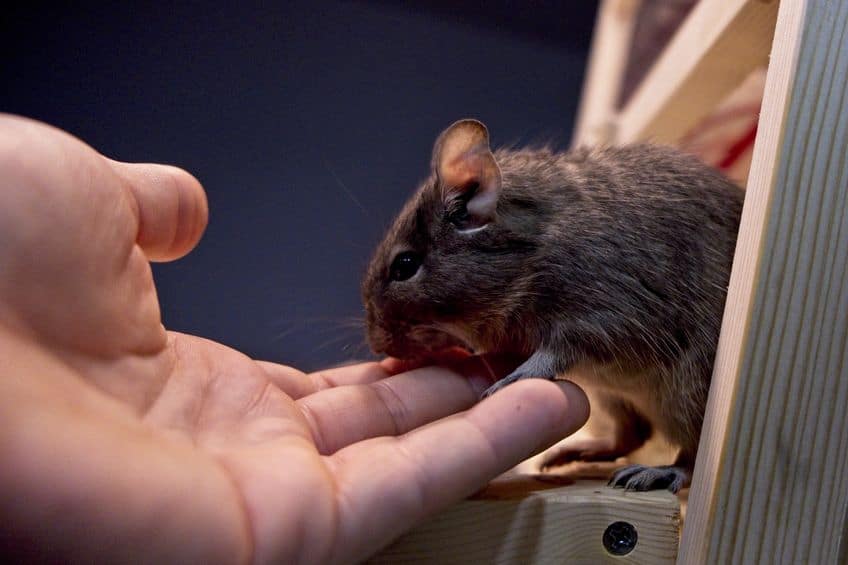 Degus are lesser-known than some of the other animals on this list, but they make great first pets. Not only are they low maintenance, but with time they will actually get to know you and can be quite affectionate. It is completely normal if they are standoffish at first, they will warm up with time. They are also extremely intelligent, so with time, they will likely learn their names. They are another social species, so you will need to get at least 2.
Size: 10 – 12 inches
Lifespan: 6 – 8 years
Average Price: $30 – $300
10- Chinchilla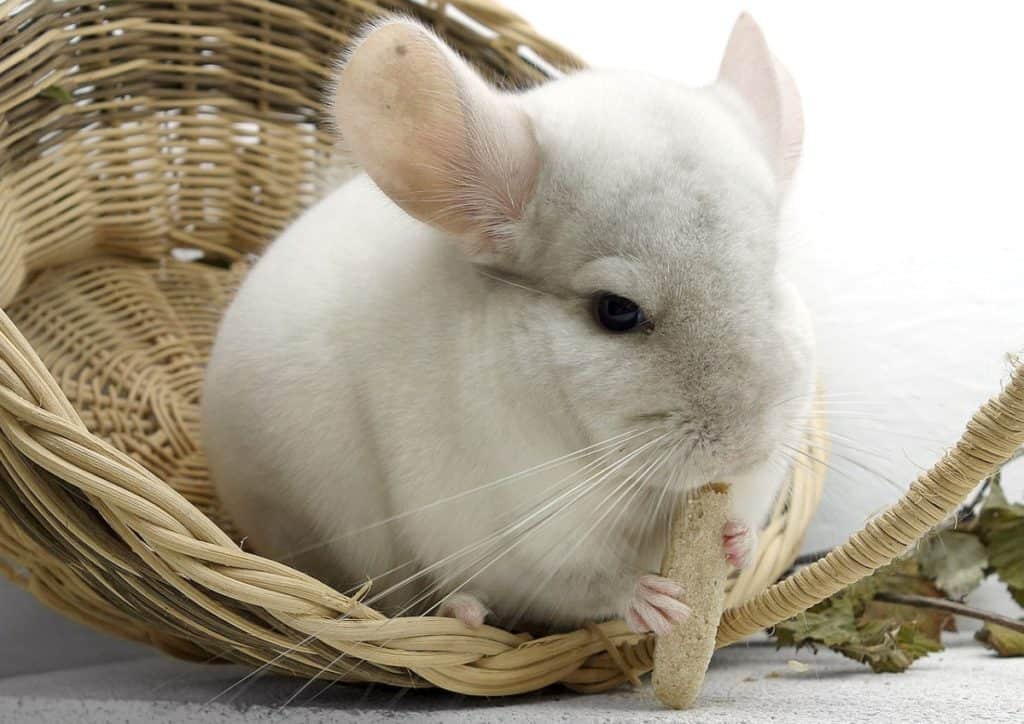 Chinchillas are defiantly one of the more exotic species on this list, but they are still quite common pets for beginners and experienced pet owners. Chinchillas are curious, affectionate creatures that will love being out of their enclosure, either hanging out with your or exploring their space. If you're looking for a pet that you can do more than just observe, a chinchilla might be a really great option, but you will need to be home more than you need to be for some of the other pets on this list.
Size: 9 – 19 inches
Lifespan: 10 – 15 years
Average Price: $150 – $350
Things to consider before you get your first rodent pet
Cage Setup: Before you bring your new pet or pets home, you are going to want to set up a cage. The size of the cage you need and what you need to put in the cage depends on what kind of rodent you end up getting. Generally speaking, the bare minimum of what you need is a wire cage of some sort, a softer material for the bottom, a food bowl, and a water container. You also will likely want things like hammocks and hideouts for extra decoration and for your pet's comfort.
One-Off Expense: There are some expenses related to owning a rodent that will be repetitive such as food. However, the most expensive purchases will be one-time payments that you make right at the beginning, and you need to be sure you can afford them. This includes things like the cage, any equipment you might need, and the actual pet.
Number of Pets: There are some species of rodents that do a lot better in pairs than they do on their own. If this is the case, you are going to need to get at least two new pets, and they are going to need a bigger cage, more food, etc. There are some pets on the list below that will be perfectly happy on their own if you are not interested in buying multiples right now.
Difficulty Level: The list below is specifically looking at pets that are easy to own, and while rodents are generally considered pretty easy, there are some that are a lot harder. As a beginner, you generally want to avoid pets that have complicated diets, exercise routines, etc.
Risk of Breeding: As a beginner, the last thing you want is for your pets to breed. If they do, you will end up with a number of babies on your hand that is significantly more complicated (and expensive) to deal with. For this reason, you generally either want to make sure all your rodents belong to the same gender.
Noise: Depending on where you are going to be keeping your pet, the amount of noise that your pet makes could be an issue. For instance, if the animal is in your bedroom and spends all day and night squeaking and running on a wheel, you may get rather annoyed pretty early on. Due to this, you should consider where you are going to put your new pet and the amount of noise it makes before making a purchase.
Smell: Similar to noise, if you are stuck in a small space with an animal that tends to smell a lot, you may end up not liking your pet as much as you think you are going to. Make sure that you consider the smell the animal will add to your apartment, home, etc., before bringing your new pet home.
Habits: You want to consider whether or not your new pet's habits work with your lifestyle and wants. For instance, a number of different rodents are nocturnal. If you are someone that really needs a silent room to get a good night's sleep, you likely are not going to want to get a nocturnal pet that will be making noise and active all night long.
References and further reading: