There are so many different hamster foods for sale that trying to pick the right one can be really overwhelming. Every brand makes the claim that they have the best formula for your hamster, but how do you know which ones are telling the truth?
In this article, you will also find a guide to the 10 best hamster food for you to consider. We will also go over the different things that you want to consider before picking out a new food such as what your hamster needs out of his food and how much food your hamster should be eating.
This post contains affiliate links, and I may be compensated if you make a purchase after clicking on my links, at no extra cost to you. Thanks!
10 Best Hamster Food Currently On The Market
Our Score
Kaytee is a very popular small animal pet brand. They make lots of high-quality products, and that includes their Fiesta hamster food. This hamster food includes a variety of ingredients like fruits, vegetables, and grains. It also contained ingredients specifically formulated for digestive health (prebiotics and probiotics) and for immune support (antioxidants.)
Furthermore, they have even designed the shape and textures of each individual pellet with a purpose. The pellets encourage chewing, which will help your hamster keep his teeth ground down and healthy.
It also will stay fresh for months, but you do not have to worry about harsh chemical preservatives. Every preservative Kaytee uses in this mix is all-natural. In fact, the only complaint that small pet owners have is finding that a bug or two got trapped in the harvesting and manufacturing process.
Pros
Ingredients to support both digestive and immune health
Formulated to encourage your hamster to chew and keep his teeth ground down
Long-lasting due to all-natural preservatives
Cons
Some people have found bugs mixed in before
Our Score
If you are looking for an affordable hamster option, you should consider Science Selective Complete Hamster Food. This is another complete food so that you do not have to buy extra supplements or foods to ensure that your hamster is getting enough nutrition.
It is formulated with natural ingredients like oats and barley and added nutrients like Omega 3 and Omega 6 fatty acids.
The only thing is that it does come in a rather small bag, so you will likely go through it faster than you would go through some of the other hamster foods on this list.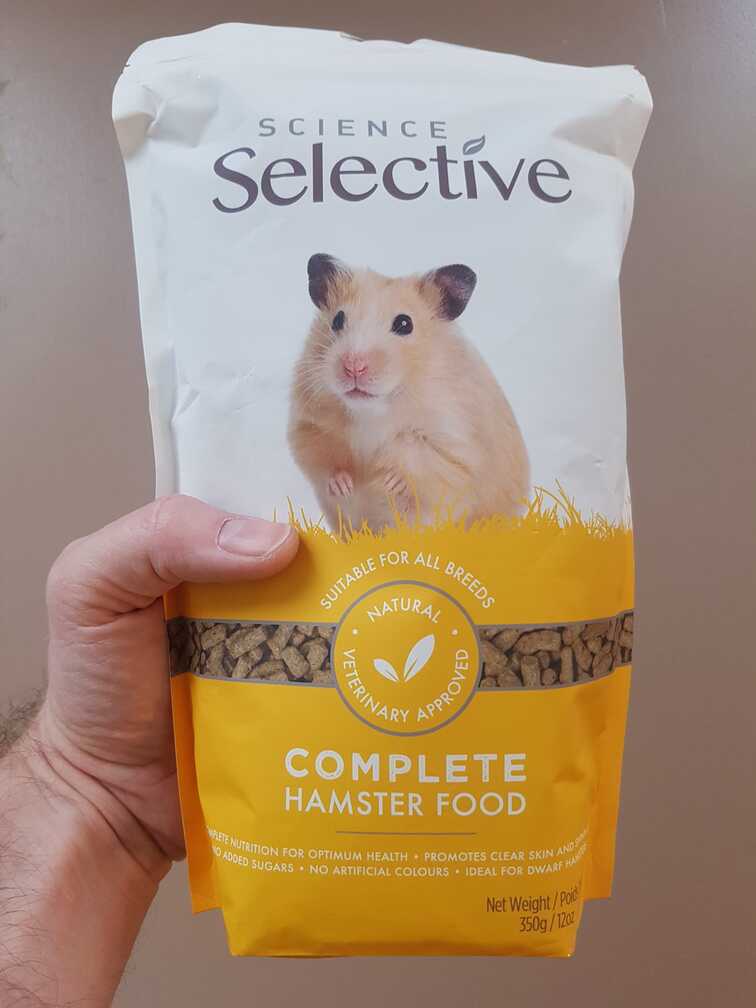 Our experience: An excellent alternative to the more famous brands, Science Selective hamster food is a big hit for all our hammies. They tend to eat most of it right away and only stash a small quantity inside their cage. The pellets are the right size too so they can hold it and chew on it easily. Giving it some variety would have been a plus since some hamsters can be picky and selective.
Pros
Formulated like oats and barley and other whole grains
Include great nutrients like Omega 3 and Omega 6 fatty acids
A complete diet so you do not have to add extra supplements
Cons
Comes in a rather small bag.
Our Score
This is another hamster food formulated with high-quality, nutritious ingredients like grains, seeds, fruits, and vegetables. On their ingredient list, you will find common ingredients like oats (which are okay here because they are ground down), pumpkin seeds, cranberries, alfalfa meal, banana chips, whole corn, and millet, carrots, and dehydrated apples.
It is also formulated with additional supplements to ensure that your hamster has perfect all-around health. Antioxidants will help keep your hamster's immune system strong, and it includes omega-3 fatty acids to keep your hamster's coat and skin in good health.
The one thing to keep in mind is that one of the pellets is a bit larger and looks almost like a cheerio. Hamsters often love these, but they tend to get stuck on hamsters' teeth. If you find this to be a problem, you will need to soak it with water and then gently remove it from the tooth.
Pros
Full of high-quality, natural ingredients like grains, fruits, veggies, and seeds
Contains antioxidants and omega-3 fatty acids for immune, skin, and coat health
Each pellet is packed with flavors that hamsters will surely love
Cons
The bigger pieces can get stuck on your hamster's teeth
Our Score
Tiny friends farm offers great, balanced hamster food. It has a mix of different fruits, nuts, vegetables, and seeds that your hamster with love the taste of while getting a balanced diet. It even contains specific foods like peanuts and pumpkin seeds that your hamster will love foraging for.
The one thing to keep in mind is that with such a variety of ingredients, your hamster is likely going to pick favorites. Because there is such a variety of vitamin and protein sources, this could end up being fine, but you want to watch to make sure your hamster is getting enough good food and not just sticking to the tasty fruits or pieces that are high in fat.
If you pay enough attention, you might even be able to figure out which foods are your hamster's favorite and use them as a treat. For a lot of hamsters, this ends up being peanuts, which may mean that you want to buy extra peanuts because there is not a ton mixed in.
Pros
Good variety to ensure your hamster is getting a tasty, balanced diet
Every ingredient was picked with your hamster's health in mind
Absolutely no sugar added into the mix
Cons
Not necessarily evenly mixed, so you might notice a lack of some ingredient like peanuts
Our Score
Oxbow Essentials Hamster Food is what is called a complete feed. That means that formulated right into the pellets are everything that your hamster could need for a complete and healthy diet. It will help your hamster stay fit and at a healthy weight, keep healthy digestive functioning, maintain proper dental health, and more.
Furthermore, it has all the high-quality ingredients without any of the more problematic ones. This formula contains absolutely no artificial colors, preservatives, or flavors. It is also free from all ingredients that might be too high in sugar, including high-sugar fruits, nuts, and seeds. This should also prevent your hamster from picking certain pellets out while leaving others.
The only hamsters that this food is not suitable for are females that are pregnant or nursing because it does not contain enough calories/special nutrients.
Pros
Fortified with vitamins and minerals such as Vitamin A, B12, and Vitamin C
Free form artificial colors, flavors, and preservatives
Provides your hamster with a complete and natural diet
Cons
The texture of the food may vary, which can cause problems for pickier hamsters
Our Score
If the fiesta mix from earlier is either not what you are looking for or not something that your hamster enjoys, another great option is the Kaytee Forti-Diet Pro Health Hamster and Gerbil Food. It is made from whole, healthy ingredients and is protein-rich to ensure that your hamster is getting everything out of his diet that he needs.
It is specifically meant to help with things such as muscle development, immune system support, and good skin and coat health.
When looking at the ingredient list, you will see lots of whole ingredients rather than confusing chemicals. It contains things like sunflower seeds, Omega-3 (for skin, heart, and eye health), and yucca (to minimize odors).
You should also notice that it is absent of things like artificial colors, flavors, and chemical preservatives, which could be bad for your hamster.
Pros
No artificial colors, flavors, or chemical preservatives
Added vitamins and supplements for extra health benefits
Includes yucca to help minimize unwanted odors
Cons
You will need another container because the bag is not easy to reseal
Our Score
Sunseed Company Natural Hamster Food is a seed formula. Because it is a seed formula, all you have to do is look at the mixture to see all the great foods your hamster will be getting such as hay pellets, fruits, vegetables, and greens.
They have also mixed in vitamins and minerals, including probiotics and omega-3, for added health benefits. Furthermore, it does not contain any artificial colors or preservatives which do not belong in a hamster's diet.
The only potential problem is that because each ingredient is so separated, you could run into problems with your hamster only eating certain parts, which could lead to nutrient deficiencies. If this happens, you may have to remove their favorite items and use them as treats.
Pros
All-natural mixture with ingredients you can trust
Added vitamins and minerals such as Omega 3 and probiotics
A tasty mix that hamsters love
Cons
Hamsters often pick out their favorite ingredients, which can lead to a nutritional imbalance.
Our Score
Vitakraft Vita Smart is often considered a premium hamster food. This product is formulated to provide your hamster with a variety of textures, colors, and flavors to encourage foraging and prevent your hamster from getting bored with his food.
Those pellets are formulated with ingredients like soybeans, beets, alfalfa, flaxseed, and timothy hay. They are also fortified with added nutrients such as Omega-3 fatty acids. With this formula, you do not have to worry too much about your hamster picking favorites because every piece is packed full of nutrients.
They have even managed to offer your hamsters this tasty variety without any artificial preservatives, colors, or pesticides. Plus, it comes in a 2-pound bag, so you do not constantly have to order more.
Pros
Offers your hamster a healthy variety of textures and flavors
Fortified with added nutrients like Omega 3 fatty acids
Made with natural ingredients
Cons
It is a slightly more expensive hamster food
Our Score
Just like the name implies, this is a higher-end and, therefore, more expensive hamster food. However, this price does come with a guarantee of healthy, quality ingredients.
This hamster food is all-natural and focuses on ingredients such as fruits, seeds, and veggies. The ingredients also include things like DHA for brain function and probiotics for digestive health.
The only thing to keep in mind is that it is relatively low in protein, so you will have to supplement with another mix of high-protein treats to ensure that your hamster is getting enough protein every day.
Pros
DHA promotes good cognitive functioning
Probiotics support digestive health
High-quality, natural ingredients such as fruits, veggies, and seeds
Cons
Low in protein, so you may have to supplement with treats or another food.
Our Score
There is a reason why Oxbow named this food Garden Select. It is full of great products like yellow peas, carrots, bananas, tomatoes, and spinach that naturally provide your hamster with essential nutrients that will support healthy functioning and living.
Plus, all of these different ingredients are completely non-GMO, so you can trust the quality of each ingredient.
On the ingredient list, you will also see three different grass varieties that allow your hamster to get that foraging feeling while also adding extra nutrients into the mix. Every one of these ingredients was farmed in the USA and selected for a specific reason.
Pros
Full of natural ingredients like fruits and vegetables
Every ingredient is completely non-GMO
Grass varieties allow your hamster to feel like he is foraging.
Cons
Lower in some ingredients like seeds
Factors to Consider Before Buying Hamster Food
1. Hamster Dietary Requirements
Hamsters are often mistaken to be herbivores because it is hard to imagine a little hamster catching prey in the wild, but the truth is, hamsters are actually omnivores which means they need a mix of both protein and plant food like grasses, seeds, and grain. However, if you are going to have an issue ensuring your hamster gets enough of something, it is more likely to be the former (protein) than the latter, so we try to give a little extra emphasis to that when reviewing hamster foods.
Good hamster care also means that your hamster has access to some foods that are more hard or crunchy. Unlike humans, hamster teeth never stop growing. In order to be comfortable and able to function well, hamsters need to be constantly grinding down their teeth. Failure to provide your hamster with things to chew on could lead to painful and expensive dental problems.
However, in searching for hard or crunchy foods, you do not want to give your hamster rough or sticky foods. Hamsters have very delicate cheek pouches, and rough ingredients like oats can puncture the inside of a hamster's cheek. Stickier foods can also cause problems as they tend to get stuck in the pouches.
2. Ingredients
The main thing to consider when it comes to the ingredients in your hamster's food is whether or not they are high quality. Often, the best ingredients are natural ingredients like seeds, grains, and cereals. When you pick out a food that either has whole ingredients or natural ingredients like ground oats, alfalfa, peanuts, etc., you can be more confident that your hamster is getting high-quality food.
On the other hand, you want to avoid foods that are made up of lots of artificial colors, sweeteners, chemicals, and artificial ingredients. Unfortunately, there are lots of hamster foods that are high in these poor ingredients. Because of this, some hamster owners go as far as to make their own food mixes.
3. Nutritional Value
With any kind of pet food, you want to make sure that you consider its overall nutritional value. There are some pet foods that are formulated to be mass-produced and cheap rather than to be good for your pet. For hamsters, this might look like a food that is high in filler ingredients that do not offer much nutritional benefit and are low in protein and other important nutrients.
Just like with human food, you will find an ingredient list on the back of any bag or pack of hamster food. When you look at this, you want things like high-quality protein, vitamins, whole grains, etc., to be at the top. You also want to avoid foods that have lots of artificial chemicals and preservatives in them. Getting food with fewer preservatives will mean that you have to change it out more often, but in the end, it will truly be better for your hamster.
As far as nutritional percentages, you want to look for hamster food that is high in protein. Most experts seem to recommend between 17 and 22 percent. You also want to look for foods that have between 8 and 10 percent of fiber and 4 to 6 percent fat; however, fiber and fat are both less concerning than a lack of protein.
4. Type of Foods They Can Eat
It is always a good idea to give your hamster treats and foods that are high in protein. Really great treats can include things like bits of cooked fish, bits of cooked meat, and pieces of hard-boiled eggs. However, their primary protein source should be found in their food, whether you end up using pellet food or seed food.
Different kinds of fruits and vegetables also make great treats or additives to a balanced diet, but they should not be the primary component of your hamster's diet. Some great options are things like spinach, pumpkin, celery, carrots, and bananas. Just make sure you clean the produce well to remove any pesticides first because any chemicals used to protect the fruits and vegetables might be harmful to hamsters.
Timothy hay is a relatively cheap way to add more nutrients to your hamster's diet. It is a type of sweet, green hay that can you can feed to your hamsters two or three times a week in addition to their regular food.
Your hamster can also eat things like grains, seeds, and nuts. You will likely find whole grains and seeds in most quality hamster foods, but nuts should be used more as treats or added into a mix rather than being the primary food you give your hamster. Hamsters love the flavor of these high-fat foods, but too much fat can cause major health problems, just like it can in humans.
5. Types of Foods Hamsters Need to Avoid
On the other hand, there are also certain foods that you need to completely avoid feeding your hamster because they can lead to illness or even be fatal. First of all, you want to avoid feeding your hamster any type of junk food. Avoid things like candy, chocolate, and snacks that are high in sugar. Likewise, there are even certain fruits that you need to avoid because they are higher in sugar. This includes things like pineapples, apricots, peaches, and citrus fruits.
Another thing that you might not automatically think of is their hoarded foods. Most hamsters will create a stash of food on instinct. You might feel tempted to leave these stashes when you are cleaning out the cage in order to avoid upsetting your hamster, but most hamster foods can grow mold, attract bugs, or just go bad. If your hamster then eats from a hoard of spoiled food, he will likely get sick.
When to Feed Your Hamsters
Hamsters really only need to be fed once a day. Most experts agree that you can do it either in the morning or the evening. However, hamsters are nocturnal animals, so they will likely be more inclined to eat in the evening/at night than in the morning. On the other hand, if your hamster is a loud eater, you might want to wait until morning for feeding so that you are not kept up listening to chewing and crunching all night long.
Some people decide to free-feed their hamsters. Free feeding is when you leave the bowl full pretty much all the time. There are some hamsters that this will work for, so you are welcome to try it. However, some hamsters will not stop eating just because they are full. If this is the case for your hamster, he will keep eating whether he is hungry or not, which could lead to serious health problems and weight gain.
How Much Should You Feed Your Hamsters
Hamsters are tiny creatures, so they really do not need much food at all. Most hamsters only need between one and two teaspoons of food a day. For some larger hamsters, like Syrian hamsters, you might up this amount to one or two tablespoons a day.
If you start to notice your hamster gaining lots of weight or lots of food buried in your hamster's bedding, that is a good sign that you are feeding your hamster too much. If this is the case, just start feeding your hamster a little less. If you feel particularly concerned about your hamster's eating habits, you can always reach out to your vet.
Seeds VS Pellets For Hamsters
For a long time, seed hamster food has been considered the best when it comes to nutrition. Most seed mixes are made up of a variety of different ingredients in their whole form, almost like a hamster Chex-Mix. However, if you do decide to go with a seed mix, you have to carefully watch what your hamster is eating. Often hamsters will get picky and only eat their favorite ingredients. This can lead to nutritional imbalances and health problems.
If you notice that your hamster is picking out a certain food or two, there are a couple of things you can try. First, the next time you feed your hamster, try picking out his favorite ingredients, so he is forced to eat the other ones. If this does not work, you can try another food mix or add some additional supplements.
On the other hand, pellet foods combine all of the different ingredients in one piece of food. This means you can feel more confident that even your pickiest hamsters are getting all the nutrients out of their food. However, they sometimes can have more preservatives or other unhealthy/artificial ingredients.
Can You Feed a Hamster Bird Food?
Because hamsters can eat seeds, you might be wondering if you can replace the more expensive hamster food with cheaper bird food. However, this is not generally recommended. Bird food or birdseed is made up of almost entirely different types of seeds.
While your hamster might like this diet, it will not provide him with all of the different nutrients (especially the protein) that he needs to be healthy. However, if you are mixing your own food or looking for a treat, you could consider using bird food or birdseed as a part of your hamster's overall diet.
How Long Can a Hamster Go Without Eating?
If you are going on a trip, you might be wondering how long your hamster will be okay by himself or if you need to ask someone to come over and check on your hamster while you are going. Generally speaking, it is okay to leave your hamster for 2-3 days on his own.
If your hamster is okay with free-feeding and you have longer-lasting food, you may even be able to stretch that time a little bit longer. However, if you are going to be gone more than a few days, you are going to want to have someone come check on him.
Hamster Treats
Just like any other pet, your hamster will absolutely love hamster treats. You can buy hamster treats at the store, but often people find it easier to just make their own with ingredients they already have. As mentioned before, things like bits of fish and meat, hard-boiled eggs, and bits of fresh fruits and vegetables are all treats that your hamster will love and that you might already have right in your kitchen.
If you want to figure out your hamster's favorite, you can always start by laying out small bits of a variety of different possibilities and watch to see which ones he eats first or the fastest.
References: