When you bring home a new hamster, you will need to pick out food, bedding, and a cage. While you might not typically think of getting toys, your hamster will be happier if they have toys to play with just like other pets like dogs and cats.
You will now find a guide to the ten best toy options for hamsters. We are going to go over everything you need to know about picking out toys for your hamster, like the benefits of different types of toys and the things to consider before making a purchase.
This post contains affiliate links, and I may be compensated if you make a purchase after clicking on my links, at no extra cost to you. Thanks!
10 Best Hamster Toys Available On The Market
Our Score
If you are looking for a hamster hideout that is more exciting than your run-of-the-mill plastic hideout, the Kathson Pet Small Animal Hideout is a really great option for small hamsters – though it may not work for larger hamsters like Syrian hamsters. It is a two-level hideout with a climbing ladder, climbing wall, balcony, and a cute little slide.
This hide-out is really great if you have limited space because it acts as a climbing structure and hideout all at once. Plus, it comes already assembled so you don't have to spend time putting it together.
It is also made of non-toxic wood and plastic, so you do not need to be concerned if your hamster starts to chew on it.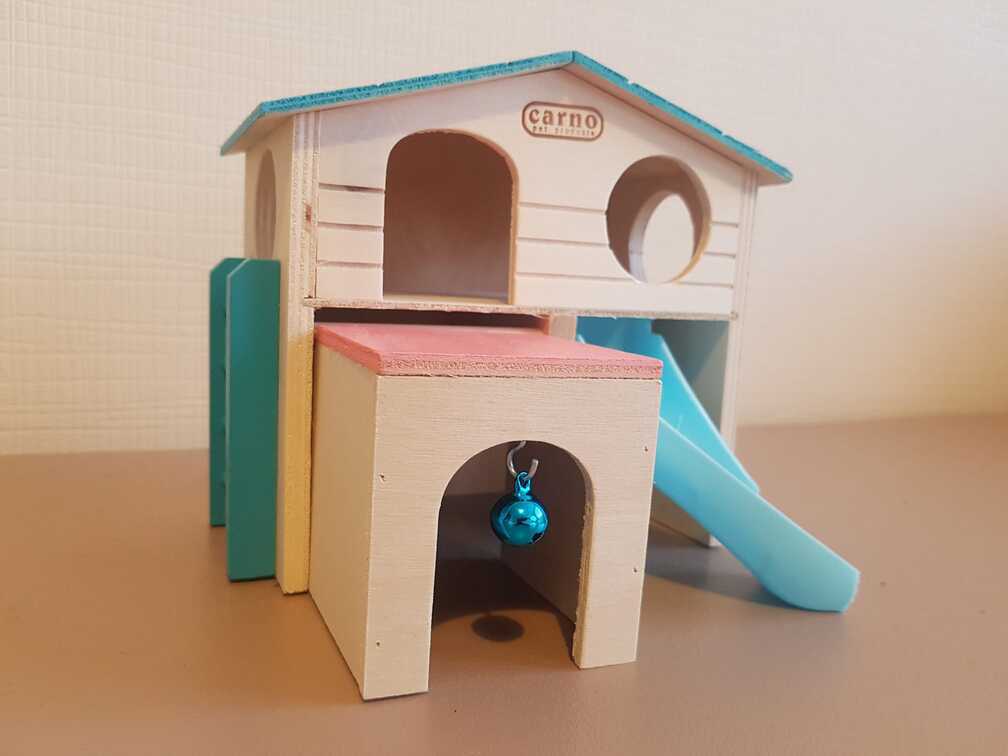 We liked the Kathson hideout for several reasons. To start with, it's very nice and bright so it adds a colorful touch to the whole cage. The toboggan, the ladder on the side, the little bell, and the many holes will keep your hamster busy for a while. As weeks went by, our hammy Cooper chose to use his toy both as a playing ground and a sleeping hut.
This toy is also very resistant. It is ideal for dwarf hamsters but a bit too small for a Syrian hamster though, so we removed the plastic toboggan for him to better access the bottom part.
Pros
Made of non-toxic wood and plastic so it is completely safe for your hamster
The perfect size for small animals like dwarf hamsters
It works great as both a hideout and a fun climbing structure for your hamster
Cons
Too small for larger hamsters like Syrian hamsters
Our Score
This hanging toy set comes with a pet ladder that your hamster can climb on, a pet hammock that also acts as a tunnel, and a pet swing. This toy will give your hamster a great way to expend all of his pent-up energy and avoid becoming bored.
All three parts attach easily to any wire cages with the use of snap clips. Plus, because all three parts are hanging, it only takes up very minimal floor space.
The toys are made from natural color-treated wood and the hammock is made out of straw, making each piece durable and safe for hamsters. The clips are made out of metal, so you do not need to worry about it breaking and your hamster falling or getting hurt.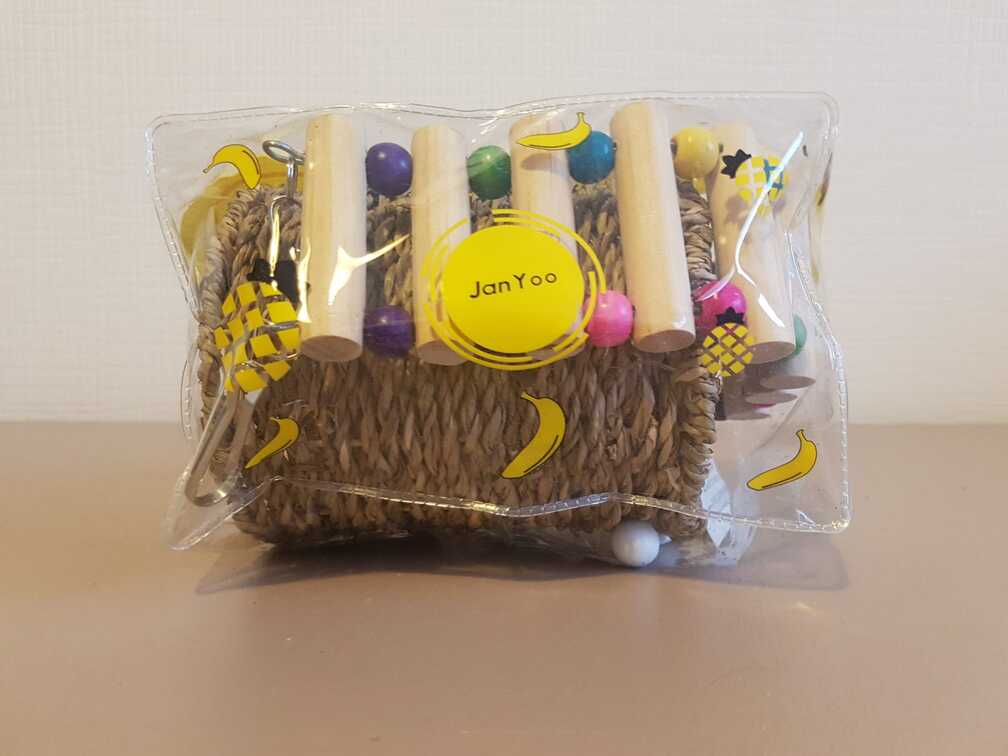 The Leeko hanging toy was an instant hit both as a play toy and a chew toy. The small colorful balls were chewed right from the start but that did not affect the overall strength of the bridge. All the toys and hooks are sturdy and the whole toy set is still in very good shape after several months.
All the items will give your hammy plenty of stimulation throughout its playtime. We chose not to hang the hammock and leave it on the floor in the cage so that our hamster could use it as a sleeping hut. Expect your furry to chew some of it too!
Pros
Includes three components (ladder, swing, and hammock) for diversity
All three are made of natural wood and straw making them completely safe for your hamster to chew
The metal clips are durable, so you do not have to worry about your hamster falling
Cons
Smaller hamsters may struggle to climb up onto the swing
Our Score
If you are wanting to get all the toys that you need in one bundle, this JanYoo set is a really great, budget-friendly option. For under 20 dollars you get chew toys, a hanging toy, a ramp, a swing, a roll-around toy with a bell, and a climbing ladder.
All of the toys are made out of natural, durable wood that is completely safe for hamsters. Plus, the applewood has a great taste that your hamster will love to chew on.
However, you may not want to put all the toys in the enclosure at one time, because it could overcrowd your hamster.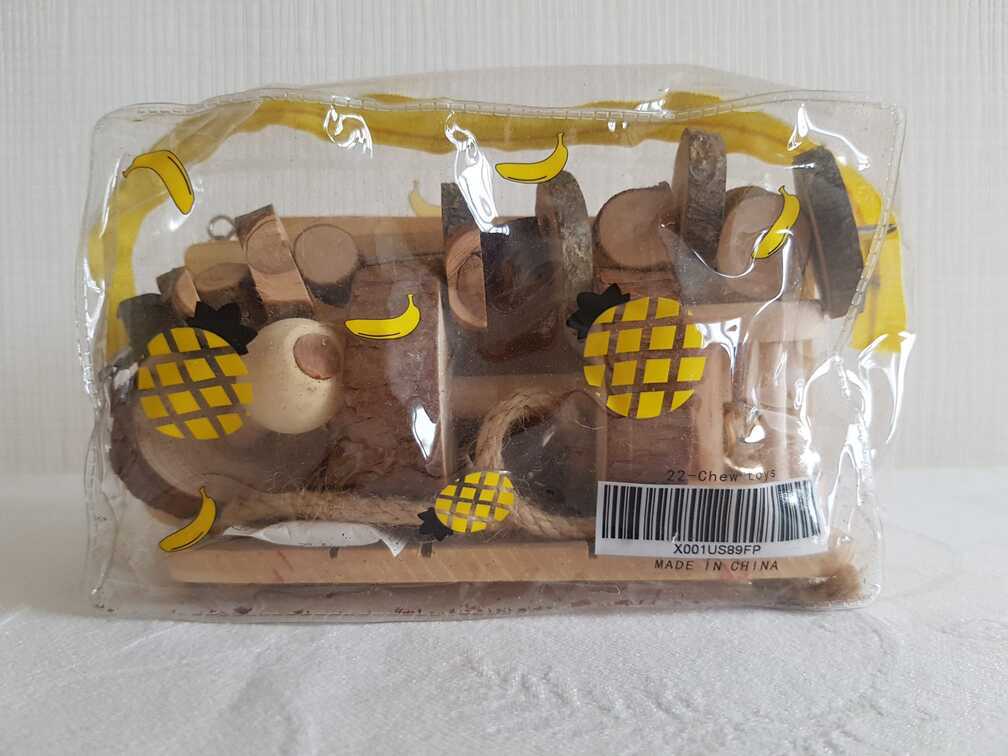 The Janyoo toy bundle came in a very neat bag and we liked the diversity this pack offers. Don't expect your hammy to play with every single item – our hammies ignored some toys and loved the others.
Some got chewed in no time (like the rope or the round blocks) while others are being used like little platforms on each side of the cage. With some creativity, you can really make the most of every single item in this bundle.
Pros
A great, budget-friendly way to get most of the toys you need
Made of all-natural applewood that is both safe and tastes good
Hanging parts attach securely with metal clips
Cons
Could overcrowd your hamster if you put all toys in one go
Our Score
If you have a bigger enclosure for your hamster, this wooden climbing set can be a lot of fun. It comes with a climbing ladder, bridge, tunnel, and several climbing stools that your hamster can crawl over. It even comes with a small wooden bowl for your hamster can scavenge for food and treats.
However, to have all of these different climbing features, it has to be quite big, which means you should only buy it if you are able to provide your hamster with a bigger enclosure.
Another great benefit is that it is made out of completely safe and non-toxic wood. That means if your hamster decides to try to use his climbing structure as a chew toy, it will not hurt him at all.
Pros
Made of lots of fun climbing activities for your hamster
Small wooden bowl for your hamster to scavenge for food
Made of completely safe, non-toxic wood
Cons
Rather large, so it takes up a good bit of space in the enclosure
Our Score
If you are looking for a tunnel to give your hamster something to run through and like the more natural look, this Niteangel Hamster tunnel is a great option. It looks like a hollowed-out tree trunk and it has several holes for your hamster to pop up out of and look around.
It is the perfect size for small hamsters, plus it will provide your hamster with an experience much closer to what they would have in the wild than a plastic tunnel would. It is even completely chew-safe, so it is perfectly fine if your hamster decides to use the tunnel to wear down his teeth.
Pros
A natural tree-trunk look
Has several holes that your pet can pop out of and look around
Completely safe for your hamster to chew on if he needs to grind down his teeth
Cons
It may be too small for some large hamsters
Our Score
This WINOMO pet hammock is the perfect fuzzy place for your hamster to curl up and relax. It hangs to the top of any wire cage with four metal chains and clips that are both corrosion resistant and anti-rust, so you can trust that they will stay securely attached and your hamster will be perfectly safe.
It is an especially great option for the winter when it starts to get cooler because the fuzzy hammock will help keep your hamster warm and comfortable. There is also a lookout in the front to prevent your hamster from overheating when it gets warmer and to give him the opportunity to look around his cage or the room if he wants.
Pros
Easy to attach with clips but extremely durable and secure
Has a lookout hole which also provides air circulation
Washable material so it is easy to clean
Cons
May be too warm in the summer
Our Score
If the enclosure that you have does not naturally provide your hamster with a place to dig and burrow, the Niteangel Hamster Sand Bath is a really great way to give your hamster a place to do so.
However, like with the climbing structure, because it is on the bigger side, you are going to need a bigger enclosure if you go this route. It does come in two different sizes so you have a bit of flexibility.
It also has a little hideout portion if your hamster wants some privacy or to take a nap, and it has a platform perfect for holding a small food dish for your hamster to eat out of. Finally, it is made out of natural and durable material making it completely pet safe.
Pros
Gives your hamster a place to dig and burrow like he instinctively wants to
Has a platform to hold a small dish of food
Made out of natural and durable wood making it completely safe for your hamster
Cons
It is on the larger side so it only works if you can get a large enclosure
Our Score
This Kaytee Combo Chew pack is a really great option if you need chew toys on a budget. It comes with several applewood chew sticks that are completely safe for hamsters and lots of fun to chew on.
It also comes with loofah chews that are shaped like puzzle pieces. Lots of hamsters love chewing on loofah-textured chew toys.
In this one pack, you get sixteen different pieces, so you know it will last your hamster a while. Plus, both the sticks and the loofah help encourage your hamster to keep his teeth ground down and healthy.
Pros
Comes with sixteen different pieces so it will last you a while
The sticks and loofah puzzle pieces offer your hamster some variety
Keeps your hamster's teeth ground down and healthy
Cons
There is no way to hang up the chews easily
Our Score
Pumice stones are another really great way to help your hamster keep his teeth ground down and healthy. These pumice stones are made out of genuine volcanic rocks that are completely safe for hamsters to chew on.
Plus, there are a ton of different options so you can get exactly what you want. You can get a two-pack of hanging pumice stone toys, a 5, 10, or 20 pack of rectangular pumice stones, or a 12 pack of mini flower pumice stones.
The only downside is that some hamsters do not like chewing on pumice stones as much as they like chewing on wood. Therefore, you might want to start with one of the smaller packs.
Pros
Pumice stones are a great way to keep hamster's teeth ground down
There are lots of different pack options for shape and amount
You can easily hang them up on a wire hamster cage
Cons
Some hamsters do not like chewing on pumice stones as much as they enjoy wooden chew toys
Why Do Hamsters Need Toys?
There are lots of reasons why hamsters need toys, and they vary based on the kind of toy. You will find below an explanation of why hamster toys are essential for good hamster care and what are three of the main types of hamster toys are beneficial.
1. Chew Toys Are Good For Your Hamster's Teeth
Hamsters need chew toys to help keep their teeth healthy and functional. Unlike humans, hamster teeth never stop growing. This means that if your hamster does not have a way to continually grind down his teeth, they will become so long that they cause constant discomfort and may even prevent your hamster from being able to do key tasks like eating and moving.
2. Climbing and Exercise Toys Are Important For Hamster's Physical Needs
Hamsters are very high-energy creatures. In the wild, they run and explore for hours every single night, and that natural energy does not disappear when a hamster is raised in captivity. Plus, hamsters often eat fairly high-energy diets including foods like sunflower seeds.
In order to be able to expend all of this energy and not grow bored, hamsters need exercise and climbing toys. Exercise toys include things like wheels and balls. As far as climbing toys, you can look for things like wooden ladders, climbing blocks, ropes, and ramps.
3. Toys Are Great For Your Hamster's Mental Stimulation
It is really important for your hamster's mental and physical health that he does not get bored all the time. One way you can prevent boredom is with toys that offer a bit of mental stimulation. This includes things like puzzle toys that you can hide treats in and other fun games you can play with your hamster. You will find more information on games you can play with your hamster in a later section.
What Types of Toys Are Available For Hamsters?
Hanging Toys: Hamsters can have a lot of fun with hanging toys. Plus, they are a really great option if you have limited space. Hanging toys can be used to give your hamster something to climb, chew, and tug on to help prevent boredom.
Wheels: Wheels are a really important toy that pretty much all hamsters need in their cage. Hamsters have a natural instinct to run for miles and miles, and the wheel gives them a way to get all of that energy out.
Climbing Toys: Though hamsters love their wheels, it is good to give them other forms of exercise too. Climbing toys is a great way to do just that.
Chew Toys: You are going to have to replace the chew toys every now and then, but they are an important part of keeping your hamster healthy. You can also use chew treats.
Balls: A ball can give your hamster something to roll around and chase through his enclosure or in a safe place out in the house. They offer both mental and physical stimulation.
Tunnels: Tunnels are another great way to give your hamster more places to explore. You can hang them up all around the enclosure, and your hamster will love running through them.
Hammocks: Hammocks are not necessarily toys, but they provide your hamster with a great place to curl up and take a nap after running all night long on his wheel.
Digging Toys: Hamsters need to be able to dig and burrow like they naturally would in the wild. You can provide this through a thick layer of bedding along the bottom or with a specific toy/box added to the space.
Pumice Stones and Mineral Blocks: Mineral blocks and pumice stones are not an absolute necessity, but they are another option that you can provide for your hamster to chew on.
Things to Consider Before Buying a Toy
Material: Most hamster toys that you come across will be made of either wood or plastic. Wood is good because it tends to be much safer if your hamster chews on it. On the other hand, plastic sometimes stands up better to chewing than wood does. You might want some of your toys (like tunnels and wheels) to be made of plastic, while other ones (like chew toys) are made of wood.
Durability: Unless you plan to replace your hamster's toys all the time, you are going to want to make sure you pick out toys that are durable. Hamsters tend to chew (even on things that are not chew toys), so whatever toys you buy need to stand up to nibbling in addition to everyday hamster activities such as running and climbing.
Safety: Safety is perhaps the single most important thing for you to consider when it comes to your hamster's toys. You want to make sure that their legs/feet will not get caught in the wheel or any climbing toys. You also want to make sure all chew toys are safe for hamsters to digest.
Price: How much you have to spend on hamster toys depends on your own personal budget. The good news is there is a wide range of toys at different price ranges. You can even make some toys yourself (like chew toys out of cardboard toilet paper rolls) if you really need to keep things cheap.
What Toys Do Hamsters Like Best?
If you are on a budget or have limited space, you may only be wanting to get the toys that your hamster will like best or need the most. If this is the case, you want to focus on meeting two of your hamster's biggest needs: a way to expend his energy and a way to keep his teeth short and healthy.
The first need can be met primarily by a spinning wheel. If you want to know more about hamster wheels, check out this guide to the 10 best hamster wheels. However, if you have a bit more space, you can also meet this need by adding a climbing toy or tunnel to the enclosure.
The second need can be best met with chew toys. The good news is, it is really easy to find cute wooden chew toys to add to your hamster's cage and there are plenty of budget-friendly options.
How Do I Entertain My Hamster?
1. Make A Maze
Making a maze for your hamster can be a lot of fun for both you and your hamster. You generally want to make the maze in a box or enclosure of some sort so you know that your hamster is safe. Inside the box, you can place tunnels or cardboard walls to build the maze. You can feel free to make it as complex or as simple as you want. Then, place your hamster in the box and watch as he scurries around the maze.
You can also upgrade the maze by adding shredded paper or bedding for your hamster to burrow through. You can also hide treats throughout the maze or at the end to entice your hamster through it if he seems reluctant.
2. Let Him Climb On You
It is important, especially in the beginning, that you give your hamster time to get used to you. One great way to do this is by laying down on the ground and letting your hamster climb around on you. This way, you are close enough to the ground that your hamster will not fall and get hurt, but it allows your hamster to get used to you on his own terms.
3. Scavenger Hunt
Hamsters are natural scavengers, so they will really love a scavenger hunt. You can take some of their favorite treats and hide them around their cage, a playpen, or even a safe room. Treats like peanuts, sunflower seeds, or bits of certain fruits are great options. As soon as your hamster catches the scent of his favorite snack, his natural scavenger instinct should kick in.
What Time of The Day Should I Play With My Hamster?
Your hamster is nocturnal which means he does not operate on the same schedule that you do. He is going to be both most active at night and spend the majority of the day sleeping. Because of this, the best time to play with your hamster is going to be later in the evening or at night after he has woken up from his daytime snooze.
However, how often you should handle and play with your hamster depends a lot more on your individual hamster and his breed, not just the time of day. Some breeds of hamsters, like the Roborovski Dwarf Hamster, are much happier when they are left alone in their enclosure the majority of the time. On the other hand, breeds like Chinese hamsters are much more sociable and would love daily playtime with you.
No matter which hamster breed you choose, you are going to want to give him time to get used to you before you just jump right into regular interaction and playing, so that you do not stress him out. Start by letting him get used to your smell by sniffing your hand, then you can move on to holding him for short increments of time and gradually increasing the time as he gets more comfortable.
How Many Toys Should A Hamster Have?
It is very logical to believe that a good way to keep your hamster from becoming bored and restless is by providing him with as many toys as you can possibly fit in his enclosure. However, you do not want to overcrowd your hamster's space.
Just like your hamster needs toys, he needs free space to explore, burrow, nap, eat, and go to the bathroom in order to be happy and stress-free. Because of this, you probably only want to put 2-3 toys in your hamster's enclosure. If you have a particularly big cage for your hamster, you can add a few more, just make sure you do not overcrowd him.
Just like kids, hamsters will get bored with their toys. The same toys that kept your hamster mentally and physically stimulated will eventually become boring and your hamster will start to become restless and unhappy. A really great way to avoid this is to keep several sets of toys that you rotate in and out. By keeping either two or three sets of toys inside your hamster's cage, you can switch them out about once a month when you do a deep clean. This way, your hamster never gets too bored with his toys.
How Do I Know If My Hamster Is Happy?
The best way to tell whether or not your hamster is happy is to pay attention to the kind of behaviors he is displaying. As long as he is displaying normal behaviors, he is probably happy. On the other hand, if he starts to display abnormal behaviors, something might be making him stressed or unhappy.
Normal Behaviors
Being Active At Night: Hamsters are nocturnal animals, so if they are feeling healthy and happy, they should be active at night and sleep during the day. On the other hand, if this schedule flips or if your hamster is sleeping all day and all night, it could be a sign of a problem.
Lots of Chewing: Some people get concerned with how much their hamsters chew, but it is actually a good sign because it is a crucial part of hamsters' dental health. If your hamster is not chewing, it could be a sign that your hamster is too stressed to take care of himself.
Burrowing and Hiding: Hamsters love to burrow and hide under things when they nap. This is not usually a sign that they are scared or stressed, but rather a sign that you have provided your hamster with what he needs to be happy.
Stretching: Stretching is actually a time when a lot of hamsters feel vulnerable, so if your hamster feels safe and relaxed enough to do so, it is a really good sign.
Playing: Finally, a really good sign that your hamster is happy is if he is playing with his toys. If your hamster is not playing with his toys, it is likely a sign that he is bored and it is time to switch out the toys.
Abnormal Behaviors
Lethargy: Hamsters are naturally very energetic animals, so if your hamster is acting very sluggish, it is likely a sign that something is wrong.
Not Eating or Drinking: Anytime an animal stops eating or drinking for a long period of time, it is a sign that something is wrong and you should consider reaching out to your vet.
Related Articles:
References and Further Reading: