When you first bring home a cute and fluffy hamster, the excitement of having your own little friend might overwhelm you. It can be tempting to call it just about anything, but if you want to get them socialized and started on training it's best to give them an actual name.
What is the best hamster name? That depends largely on personal preference, however, there are some great ideas you can use as inspiration for naming your own unique little furball! Here are some great hamster names that you can use for inspiration.
3 Quick Tips To Help You Name Your Hamster
Take your time and think about it: it can be insightful and interesting to take a few days before naming your pet to come up with something creative! Most people have trouble choosing a hamster name, so don't worry, take your time!
It should reflect their personality or traits: depending on how well you know your hamster, you might want to consider thinking of a good hamster name that reflects personality traits. If they're stubborn, for example, maybe choose a name like "Romeo", the stubborn little fellow!
Not too hard or too long: there are plenty of great hamster names out there, but avoid those that are incredibly long or difficult to pronounce. It might make for a funny story now, but it won't be as much fun when you're calling out the hamster's name and they don't respond.
Best Hamster Names
If you are a hamster lover, it's a great idea to give the best name to your new little hamster! It's also a great way to get him socialized. Here are some trendy hamster names you can choose from.
Nibbles – This is a simple yet adorable name for a hamster, and pretty much everyone will be able to say it correctly!
Chubs – A cute and appropriate choice for a stout hamster.
Cinderella – If your pet loves to run on their wheel all night long, they may as well have this classic fairy-tale name!
Fuzzy – For a cute hamster with incredibly soft fur.
Squeakers – Perfect for any loud hamsters in the house.
Fluffy – You can't go wrong with this name if you've got some cute fluffballs running around the house!
Nutmeg – A unique, unexpected name that is best suited for a hamster with brown or tan fur.
Goober – This would be an adorable choice for any hamsters who are particularly fond of their food!
Cookie – For those who love to eat, this is one of the most fitting names out there.
Pumpkin – Perfect for bright-eyed hamsters with orange fur & whiskers.
Nibbler – A great choice if you've got some little nibblers in your house!
Honeybuns – Also works for girl hamsters, and quite adorable.
Scruffy – If your pet has a wild mane of hair on its back, they might as well have this fun name.
Chestnut – A simple yet adorable name for any hamster with chestnut-colored fur.
Pitterpatter – This is a cute option if your pet is constantly running around in your home.
Angel – Perfect for any of the good boys and girls out there!
Chewie – You can't go wrong with this choice if you've got a cheeky little one in the house.
Momo – For those who love to sleep, this Japanese name might be perfect for your hamster!
Snickers – Cute for black or brown hamsters with sweet faces.
Nibs – Another adorable option that works well for active hamsters.
Pinky – If you've got a pink hamster, this might be the perfect choice.
Nugget – This is an adorable choice if you've got any baby hamsters running around.
Romeo – Just as cute as it sounds!
Cookie Monster – Because who doesn't love a great cookie?
Apple – Perfect for those with red or green eyes.
Funny Hamster names
If your furry little hamster pet has a funny personality, we've gathered for you 20 funny hamster names. If you spend enough time observing your cute furball, you will probably be able to pick one name that suits best his style.
Hammy – It's the classic option, but it will never go out of style!
Mr. Nibbles – A timeless choice for any hamster who loves to eat.
Maverick – This name works well with adventurous and fast-paced pets.
Polydactyl – This is a cute option if your hamster has extra toes or fingers.
Fuzzly Wuzzly – For those who have wild hair on their backs, this is adorable!
Houdini – Perfect for any escape artists you might have in your home.
Bacon Strips – This would be an adorable choice for small, brown hamsters.
Chubsey McFlufferton III – A silly option that will definitely make them stand out from the crowd!
Baby Dumpling Head – Perfect for those with huge cheeks.
Nibbles McGee Jr.
Pork Chop – Another classic name that never gets old!
Mr. Cute & Handsome – For those hamsters who know they're the best-looking ones around.
Little Kissyface – Because they will love to kiss your face all day long if you let them!
Mr. Sugarbuns – Perfect for any sweet-faced hamsters who aren't shy about using their charms.
Panda Bear – This would be perfect for furry, black, and white pets.
Chachi – Not one of your typical hamster names, but still cute nonetheless!
Pocky
Miss Moneybags
Princess
Caramel Popcorn
Read also: Is my hamster too fat? Here is what you should know
Unique & Individualized Hamster names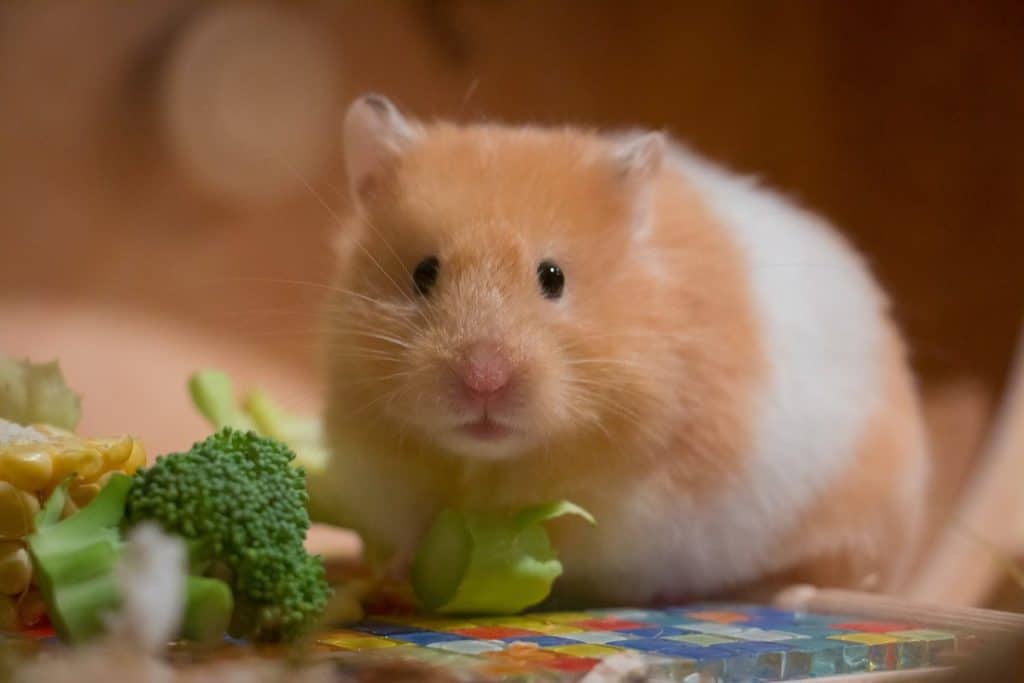 Looking for some unique hamster name ideas? A name that will stand out and that you will find nowhere else across the web? Here comes our secret list of unique and cute names for your cuddly hamster:
Lumos – For those who love to run around on their wheels all day long.
Bertha – This is a classic name for large hamsters, but it will always be adorable!
Lola – Perfect if you've got some brown-colored pets running around the house!
Fluffernutter – Another great option for any super-fluffy hamsters out there.
Super Mario – Choose this moniker if your pet loves to explore its cage.
Ma Petite Chou
Baby Belle
Butterscotch – A great option for small hamsters with tan or brown fur.
The Fonz – This is an adorable name for any pets you might have who are in love with the TV show!
Peanut Butter & Jelly
Dot Dot Dot – Because if they connect, they create a full circle!
Johnny Moustache
Socks McHenry
Pumpkin Spice
Mr. Feisty
Choo-Choo Bear
Snow Bunny
Hamilton
Muffin
Ladybug
Cute Hamster Names
If you are after cute hamster names, you've come to the right place! We also have in stock some very, very cute names to choose from – both for male and female hamsters.
Ruffles – A classic option for those little balls of fur you've known since the beginning!
Rascal – Perfect if their name matches their behavior, but make sure they won't get confused with a raccoon!
Bitsy – For those tiny and adorable hamsters who will steal your heart in an instant.
Doodles
Brownie
Chunky Bunny
Sprinkles
Teddy
Mr. Precious
Tootsie
Miss Pink
Muffin
Pocket
Flopsy
Cuddles
Bug
Baby
Cheddar
Sweetheart
Chickadee
Read also: What is the best hamster wheel currently on the market?
Girl Hamster Names For a Cute Female
Starting with the ladies, here is a list of 20 names for a girl hamster. Female hamsters have that sweet personalities and become very protective when they give birth to babies. So, which one will fit your female hammy's personality?
Flower
Babycakes
Bunny
Sweet Pea
Cookie
Lady Bug
Fluff
Muffin
Butter
Chocolate
Cinnamon Roll
Tootsie
May
Princess
Boo
Sugar
Kitten
Peachy
Honey
Dewdrop
Boy Hamster Names For a Funny Male
Now it's the boys' turn! Male hamsters tend to be laid-back most of the time and will only get really excited when the girls are around! Here is a selection of cute male hamster names for you to choose from. Take your time!
Truffles
Scooby-Doo
Sprix
Whiskers
Snickerdoodle
Snickers
Smores
Nutter Butter
Mr. Cute and Handsome
Little Bit
Lil' Dude
Nugget
Mr. Man
Mickey
Munchy
Malted Milk
Lollipop
Marshmallow
Mochi
Oreo
Unisex Hamster Names
If you are not sure yet of the sex of your hamster and you don't want to take any risks if your new pet happens to be of the other gender, here are some cute unisex hamster names that you can pick from for your new hamster. You know you'll be on the safe side if you pick one of these gender-neutral hamster names!
Snowflake
Pebbles
Puddles
Truffles
Tootsie
The Fonz
Chips
Spot
Midnight
Echo
Blue
Inky
Lucky
Kiwi
Nacho
Sushi
Charlie
Sam
Taylor
Puma
Orange Hamster Names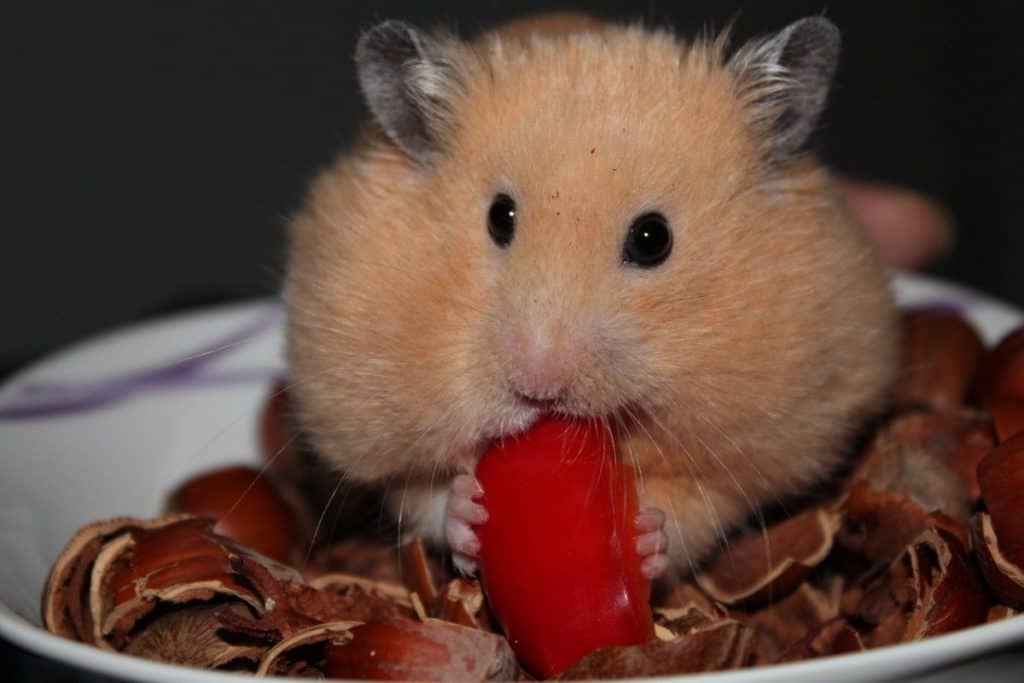 If your new teddy bear hamster is orange, why not check out this list of the best orange hamster names you can think about?
Mango
Tangerine
Peach
Tiger
Cheeto
Butter
Banjo
Autumn
Oinker
Porkchop
Marmalade
Creamsicle
Peach
Banana
Cinnamon Roll
Crumpet
Lion
Lava
Mr. Feisty
L'Orange
Black Hamster Names
Black Hamsters, we haven't forgotten about you! Here are 20 good names for your furry hamster pet friend!
Blackie
Batman
Coffee
Licorice
Midnight
Onyx
Coal
Ebony
Raven
Storm
Abyss
Obsidian
Smoke
Muddy
Storm
Shade
Batgirl
Black
Night
Shadow
White Hamster Names
How about white hamsters? The Russian dwarf hamsters are just so cute and fluffy, you just want to squeeze them all day long! But wait a minute… they need a name first!
Vanilla
Snowflake
Fluffy
Tinker Bell
Cotton
Blizzard
Frosty
Wanda
Snow
Jane
Jersey
Glacier
Ice Cream
Bunny
Sugar
Daisy
Coconut
Glitter
Buttercup
Bunny
Black and White Hamster Names
Do you have a black and white hamster? Stunning! So you probably want a name that will remind reflect his beautiful robe. Here come another 20 perfect names for hamsters that are black and white.
Panda
Felix
Mickey
Bandit
Dalma
Chip
Snoopy
Buttler
Sylvester
Charlie Chaplin
Milkshake
Minnie
Jazzy
Pepper
Zorro
Piano
Moo Moo
Boots
Socks
Ninja
Brown Hamster Names
Are you the happy owner of a brown fuzzy hamster and looking for a cute hamster name? Here are 20 names for a brown boy or girl hamster alike.
Munchkin
Brownie
Cocoa
Caramel
Cinnamon Roll
Espresso
Ginger
Nutmeg
Cashew
Hazelnut
Strawberry
Almond
Walnut
Cookie
Rocky Road
Pecan
Peanut
Maple
Brown Sugar
Taffy
Chocolate
Cappuccino
Java
Grey Hamster Names
Pet hamsters really come in a wide array of colors and I don't think we've covered grey hamsters yet… A little rarer but twice as cute! So here are a few girl and boy names if you happen to own a little grey dwarf hamster:
Plata
Razor
Dusty
Storm
Smudge
Rocket
Donkey
Cinder
Loki
Chrome
Pearl
Monsoon
Dumbo
London
Comet
Lobo
Oyster
Iris
Greystoke
Nimbus
Syrian Hamster Names
Among all hamster breeds, Syrian hamster pets are probably one of the most popular. They are very friendly with their owner and tend to form a bond right from the start. So here are 20 great names for your new hamster:
Darth Vader
Ruler
Peanut
Spice
Crumpet
Chickadee
Fluffle
Tootsie
Pudding
Pal
Mr. Feisty
Oreo
Spice
Caramel
Brown Sugar
Marshmallow
Bunny
Fuzz
Cookie
Gizmo
Dwarf Hamster Names
For beautiful and tiny pet hamsters like the dwarf hamster breeds, you want a name that will reflect both the personality and the cuteness of your pet. Here are 20 funny dwarf hamster names you can choose from:
Munchkin
Little Piglet
George
Ms. Fluffles
Lady Bug
Twix
Bunny
Toast
Belly
Marshmallow
Ruby
Kit Kat
Lil'bit
Creamsicle
Sugar Baby
Chip
Dinky
Rocky Road
Tiny
Angel
Best Names for a Pair of Hamsters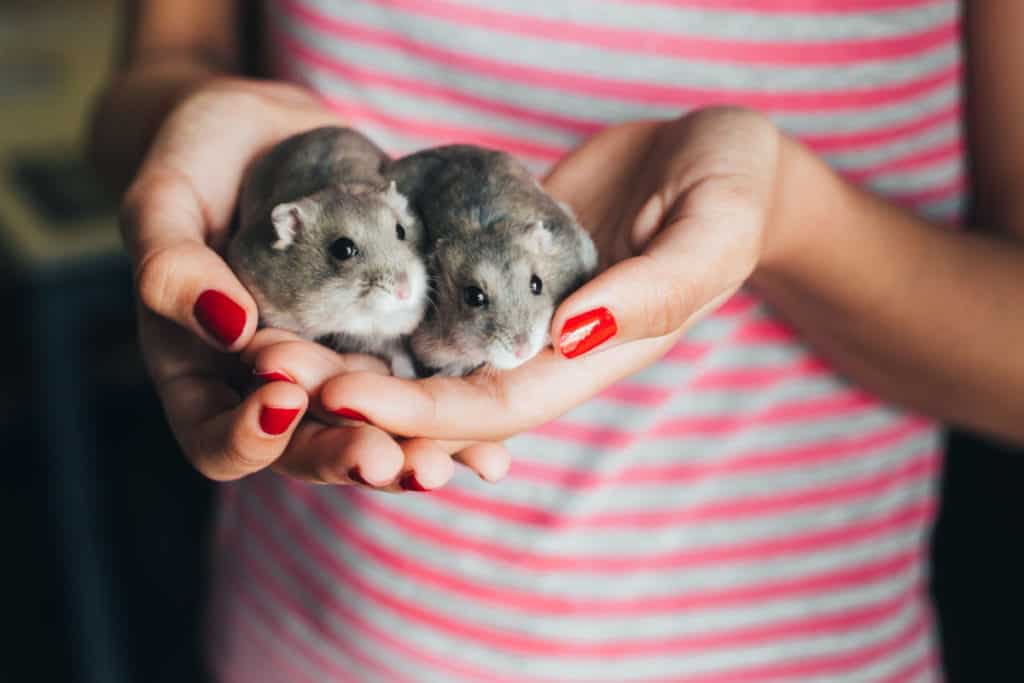 Dwarf hamsters love to stay in pairs so you might have two or more cute dwarf hamsters staring at you right now! A cool way of naming your little furballs is to give them famous pair names – this way, you can't mix them up!
For a Pair of Female Hamsters
We've gathered for you some really cute girl hamster names for a pair:
Roxie and Blanche
Rosy and Beulah
Cleo and Myrtle
Doris and Mavis
Lulu and Louise
Mildred and Saffron
Melanie and Belinda
For a Pair of Male Hamsters
Here are some cute hamster boy names you could give a pair of males:
Drake and Tuff
Toby and Reggie
Dash and Dozer
Maxwell and Monty
Flash and Surge
Willy and Chipper
Baxter and Bubbles
Iggy and Spike
For a Male and a Female Hamster
If you are the new owner of a male and a female hamster, you could pick one from the list below:
Ed and Ethel
Lucius and Aurelia
Cecil and Leona
Buddy and Imelda
Ebenezer and Marigold
Bertie and Inez
Gomer and Fanny
Toby and Honey
Radar and Mavis
Rufus and Lulu
Wilbur & Myrtle
Humphrey & Lavender
Tufty and Curly
Wilfredo and Clementine
Boris and Natasha
Diesel and Molly
Hazel and Violet
Ethel and Delilah
Hamster Names in Movies
You might be looking for a hamster name that comes from animation movies – in that case, we've got you covered too! Here is a handful of great names for your pet hamster, taken from animation movies around the world.
Geo (The Loud House)
Peepi (Invader Zim)
Snowball (Pinky and the Brain)
Hamtaro (Hamtaro)
Myron (Secret Life of Pets 2)
Penfold (Danger Mouse)
Ebichu (Ebichu)
Cheeks (Wild Kratts)
Hamzou (the idolmaster)
Marion (Bounty Hamster)
Rhino (Bolt)
Doctor Hamster (Peppa Pig)
Fang (Horrid Henry)
Hamster in Other Languages
You might be lucky enough to speak several languages – or you might be just curious to know how to pronounce the word "hamster" in other languages, as it might help you to name a Syrian or Dwarf hamster.
рахмат (Russian)
hamsteri (Finnish)
criceto (Italian, Galician)
hörcsög (Hungarian)
kāmis (Latvian)
chomik (Polish)
mmutlanyana (sesotho)
hamstro (esperanto)
햄스터 [haemseuteo] (Koran)
仓鼠 [cāngshǔ] (Chinese)
Conclusion
Thank you for reading our blog post about the best hamster names! I hope that it was helpful! In conclusion, hamster names are fun to pick out and can be informative on the type of pet you have. Names like Mr. Feisty or Ms. Fluffles will show people that you're a fun owner while more serious names like Brown Sugar will give off an impression of responsibility.
Read also