A glider that has bonded with its owner is a sight to behold – it will accompany its owner everywhere they go, protect them fiercely, detect their mood, and even bring gifts to cheer them up.
However, with sugar gliders, bonding does not happen naturally. As pet owners, you will have to make the first step and show great patience too. This article aims to make sugar glider bonding easy for all current and potential sugar glider owners.
We will introduce you to 7 great accessories that will make bonding with your sugar glider much easier. Then we will give you tips on how to bond with your sugar glider and explain why it is important to do so.
This post contains affiliate links, and I may be compensated if you make a purchase after clicking on my links, at no extra cost to you. Thanks!
7 Best Accessories to Bond with Your Sugar Glider
We hope our list of best accessories to bond with your sugar glider will make it easy for you to decide which sugar glider pouch or scarf is the right choice for you.
Our Score
This sugar glider bonding pouch features in our list for a variety of reasons. First, this pouch features secure stitches and is entirely free of loose threads, which makes it safe for your baby glider.
It also features a full window mesh screen, which creates proper ventilation while also protecting your sugar glider from exposure to direct sunlight, thereby letting them sleep peacefully.
Made from fleece and cotton, the pouch does an excellent job of absorbing urine and reducing bad odor. Most importantly, the clasps used on the pouch are sturdy and won't let your furry escape.
Our Score
The Suncoast bonding pouch is machine washable, which makes keeping it clean a lot easier. Further, all the inside seams and side loops feature safe stitches, which ultimately reduce any exposure to loose threads, thereby leaving no scope for any injuries.
The boxed corners create plenty of room for sleeping, and the multi-colored fabric makes this pouch aesthetically appealing. The pet-safe, vinyl-coated polyester, screen is resistant to scratches. Further, its black color reduces the intensity of any light coming into the pouch.
This bonding pouch also features a zipper to keep your furry safe at all times. The manufacturing company has been in the market for over twenty years and is known to produce reliable and quality products.
Our Score
If you are tired of the same old bonding pouches and want to try something that is just as convenient to use but more interesting to look at, consider buying this Dukes Digs critter cuddler.
This bonding pouch cum scarf uses fleece, which will keep your furry warm and comfortable. It is machine washable and also easy to wear. However, sugar gliders are escape artists, and if you plan to use this bonding scarf, you must be extra careful.
Our Score
Exotic Nutrition is known to make sturdy products that last a long time. This pouch, made from soft polar fleece, is machine washable, which makes using it a lot easier. Know that soft polar fleece will do an excellent job of keeping your little furry warm in the winter and cool in the summer.
The pouch also features a heavy-duty double zipper to keep your small pet friend secure and a high-quality braided rope strap, which makes the bag durable and reliable. The scratch-proof, vinyl-coated polyester window creates an excellent ventilation system.
Our Score
This reversible sling carrier is chic as well as comfortable, for both you and your furry friend. The pouch itself is 20 inches wide and 14 inches deep and holds enough space to keep your little friend comfortable.
It also comes with a security clasp that will keep your little friend from jumping out.
The pouch is also machine washable so keeping it clean is easy. Although the manufacturing company has not been in the market for very long, it has created a loyal customer base with its quality products and has our vote.
Our Score
Alongside being a great bonding accessory, this bonding scarf is also a beautiful fashion accessory. Now you can step out with your little friend while still looking good.
The inner pouch of this scarf is sixteen inches long and eight inches wide and is big enough to accommodate different small animals, including sugar gliders.
The air holes on the side create a proper ventilation system, and the zipper will keep your pet friend safe. This scarf is also machine washable.
Our Score
Why do we have a mosquito net in our list of bonding accessories, you ask! A bonding tent is a very useful tool to create an ideal environment for you and your little pet to get to know each other.
It holds ample space for you to fit in and for your young sugar glider to play around. Just add some toys and treats and spend quality time with each other.
The Ammer Pop-up mosquito tent has a simple design and is just the right size to fit inside a large enough room. It is transparent, made of high-density mesh so that your sugar glider does not feel claustrophobic while spending time with you.
The double door design makes it easy to enter and leave the tent, and the net bottom will ensure the safety of your little furry at all times.
This Ammer pop-up tent is also foldable. So, you can carry it anywhere you go and set it up wherever you like. It is our first choice because it is so easy to set up and store. 
Why Is Sugar Glider Bonding So Important?
When you bring home a sugar glider, the first thing you must do is bond with them. Sugar gliders are different than other animals in that bonding with a sugar glider does not happen naturally. Instead, it is an intricate process that takes time.
However, bonding is essential. Several pieces of research have proved that sugar gliders that form a relationship with their humans when they are young stay loyal for life. Moreover, bonding turns sugar gliders into wonderful companions, aware of their human emotions and needs.
Therefore sugar glider owners who cannot make time for these little furries, especially when they are young, should avoid buying one of these furry critters on an impulse since you cannot expect a sugar glider to bond with you if you don't have time for him.
Bonding With Young Sugar Gliders is Easier Than With Adult Sugar Gliders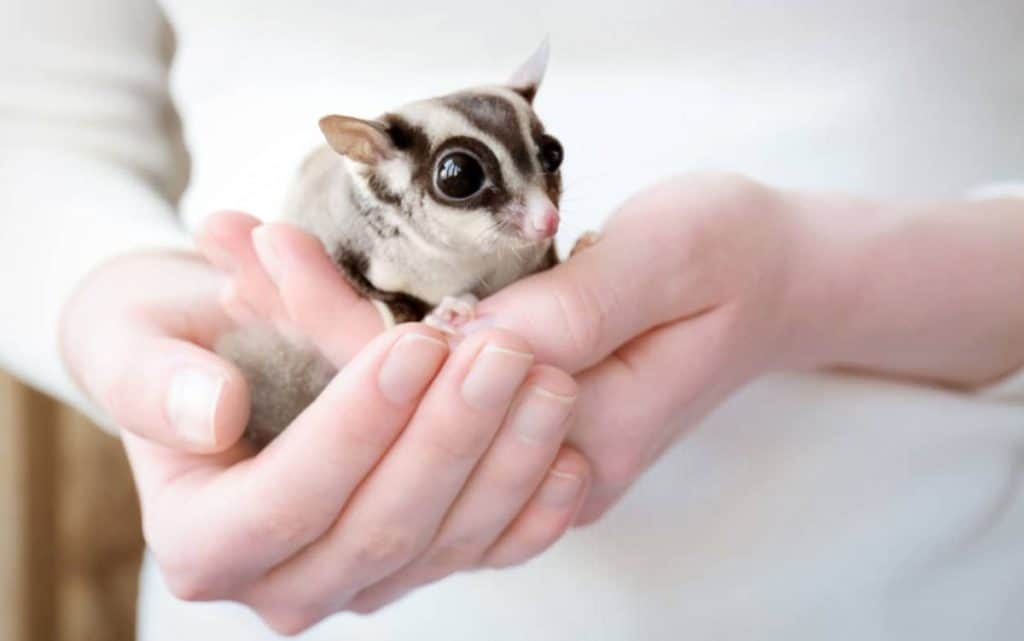 It is much easier to bond with sugar gliders when they are young than when they grow old. Spend at least 30 minutes with your young companion, three to four times a day, and your furry friend will pick up on your scent and voice.
In case you have got yourself an adult sugar glider, do not be disheartened — with patience and continued efforts, you will be able to develop a bond with your grown sugar glider as well. However, be prepared, bonding, in this case, may take longer than anticipated.
Here Are a Few Things That Will Make Bonding with Your Sugar Glider Easier
Bonding with a sugar glider is easy if you have the right accessories by your side. Here are a few things that will make bonding with your sugar glider easy.
1. Bonding Pouches
Bonding pouches resemble nest pouches and, therefore, give a sugar glider the feeling of being in its natural habitat. More importantly, they make a comfortable and safe way to carry your sugar glider around.
Look for a pouch that comes with zipped closure. Carry your sugar glider with you in the bonding pouch wherever you go, and they will eventually pick up on your voice and smell.
In case you are not comfortable using a pouch, you can also consider buying a bonding scarf as they are quite easily available these days.
2. Treats
Treats make another great way to bond with sugar gliders. Yogurt drops and dried fruits make healthy and delectable snacks for sugar gliders.
Always remember to feed your sugar glider treats with your hand; this will allow your pet to develop a connection with you more quickly.
Treats also make the perfect way to coax a sugar glider out of its hiding spot. Therefore, it is always a good idea to have some at home all the time.
Here Are a Few Tips on How to Bond with Your Sugar Glider
There are a few critical things you must keep in mind while bonding with your sugar glider.
Sugar gliders are one-person pets, so they will have a primary bond, a person they trust most in the house. However, sugar gliders are also colony animals so they will also quickly get along with everyone in your family who shows them love and affection.
During the initial days of bonding, always hold your sugar glider tightly as it may try to run away from you. However, once your sugar glider has begun to recognize your scent and voice, you will be able to hold them more loosely or as you like.
If your sugar glider tries to bite you, do not move away. Sugar gliders are slightly territorial and may try to establish their dominance at the start. If you stand firm, they will eventually give in.
The smell is the primary bonding stimulus for sugar gliders, so hanging your shirt in your sugar glider's cage may help you bond faster. Similarly, wiping your face and neck with a paper towel and leaving the towel within the bonding pouch may also help.
During the initial days, be slow around your sugar glider. Being too jumpy and excited can leave them feeling scared.
Wrapping up – Sugar Glider Bonding
Sugar gliders make great pets if they bond well with their human family. However, they can become stressed and reclusive if you don't do enough to bond with them. Therefore, sugar glider bonding is critical. We hope the accessories reviewed in this article will make it easier for you to bond with your sugar glider.
Further reading:
Resources and further reading: