In this post, we will help you choose the perfect name for your pet spider. The struggle is real – especially so if you are the new owner of a female tarantula that could live up to 30 years! How do you choose the best name for a male or female spider? It will depend on your personal taste, but you also need to consider your spider's personality.
We've compiled the best and most popular pet spider names and also and pet tarantula names, cute and funny names, as well as name ideas for both female and male spiders. And as a bonus, some famous spider names in popular movies or books.
Without further ado, here is the list of the best spider names that arachnid lovers are using over the world.
50 Most Popular Pet Spider Names
To start with, here is a list of some of the 50 most popular spider names currently in use around the globe. They make great Tarantula names but can also be used for Jumping Spiders, Crab Spiders, and Huntsman Spiders:
Venom
Silkie
Aragaog
Fangs
Skittles
Parker
Goliath
Mars
Midnight
Andie
Quake
Rooney
Sunny
Vlad
Albus
Steve
Prowler
Velvet
Dusk
Socks
Spinner
Bitsy
Webster
Anansi
Arachne
Franklin
Moriarty
Cheryl
Aramina
Octavia
Marley
Ghost
Paco
Lars
Bob
Spidey
Hunter
Shade
Spike
Twitch
Rider
Kisses
Skyros
Rufus
Tobias
Iris
Zorro
Laser
Marshall
Bobby
50 Funny and Cute Pet Spider Names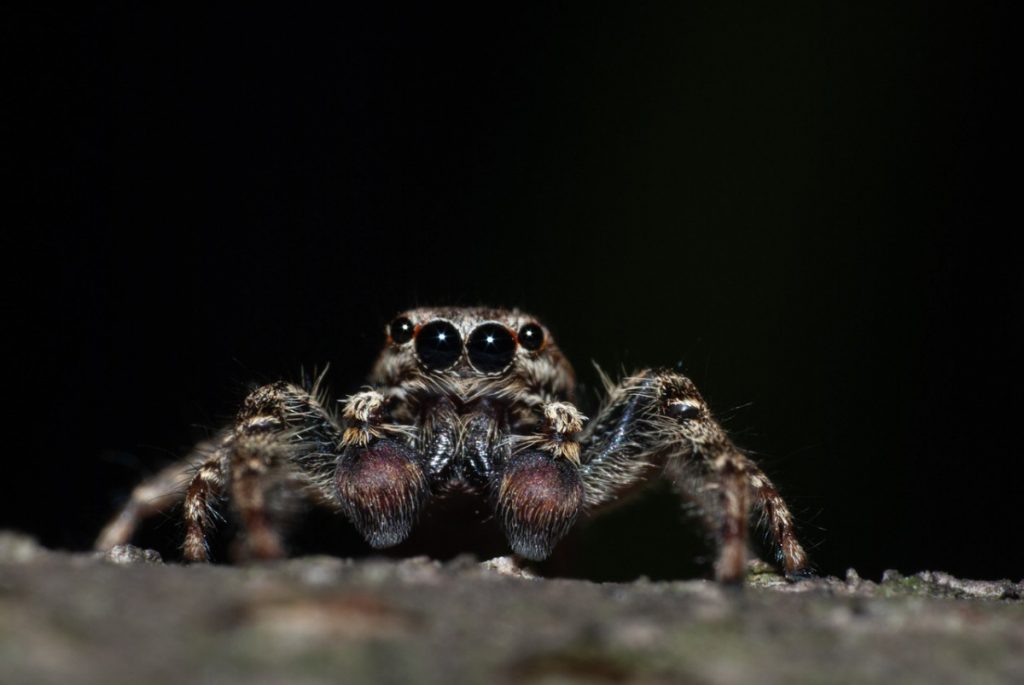 If your newly-acquired pet tarantula has a more docile character, we have compiled for you 50 funny and cute spider names:
Snuggles
Cookie
Freckles
Giggles
Fergie
Noodles
Nugget
Cuddles
Coco
Happy
Pennie
Jolie
Pinky
Kiwi
Sofia
Jack
Max
Pepper
Jitters
Chewy
April
Doodle
Fluffy
Fuzzy
Boots
Tickles
Curly
Muffet
Skyler
Tarantulina
Lilu
Simba
Denver
Alfredo
Fuzzles
Legs
Muffin
Frida
Nacho
Patches
Scooter
Squiggly
Sherlock
Dezzie
Gertrude
Avic
Apricot
Eggnog
Guinness
Loki
50 Great Names For a Female Spider
Female spiders are known to live substantially longer than males and are more prized for that reason. They are also bigger and generally show a bit more character. Are you still trying to make up your mind? Here are 50 great female spider names for you to choose from:
Creepette
Charlotte
Princess
Spinderella
Clarice
Beauty
Rosebud
Sophie
Cleo
Gemma
Karol
Leslie
Matilda
Zoey
Hola
Lassie
Jennifer
Sapphire
Pandora
Pearl
Paloma
Blondie
Brownie
Lola
Queen
Molly
Shelby
Rihanna
Victoria
Alais
Petunia
Milus
Pippa
Ophelia
Bella
Venus
Twister
Willow
Zelda
Lexie
Ultima
Wanda
Gracy
Izaine
Audrey
Fifi
Custard
Ariana
Ursula
Missy
50 Cool Spider Names For a Male Spider
Now let's check a selection of good names for a male spider, whether your pet is smart, slick, or dead lazy…
Boris
Donald
Peter Parker
Ash
Harlequin
Hannibal
Lucas
Harry
Cosmo
Edmund
Goliath
Joker
Logan
Quirk
Robin
Victor
Wesley
Bandit
Quentin
Charlie
Whisper
Godzilla
Brutus
Jet
Yoda
Onyx
Timmy
Fido
Buddy
Homer
Moby
Yang
Kermit
Jester
Shadow
Riddick
Zeus
Thor
Rocky
Rex
King
Yolo
Magnus
Owen
Fry
Ziggy
Ivan
Kong
Obi
Indiana
Good Spider Names for a Tarantula
When it comes to tarantulas, they are very different from other spiders in nature and temper. Actually, there exist over 800 species of tarantulas, and the difference between the Old world and New world tarantulas can be surprising. For example, the Chilean Rose and the Orange Baboon are two species that have completely different characters – one belongs to the docile species, while the other is known to be extremely aggressive.
We've compiled some of the best tarantula names in this list:
Wolf
Palpatine
Ultra
Screech
Cloud
Toby
Cooper
Spanky
Enkil
Cobalt
Bruce
Arizona
BlackJack
Marauder
Aladin
Carus
Caligula
Scorps
Marcus
Crushinator
Best Names for a Jumping Spider
Jumping spiders have become increasingly popular recently, especially since their amazing jumps were captured on camera. These small but swift spiders can jump up to 40 times their body length! Here is a list of the best spider names for this jumping breed:
Magnentius
Napoleon
Ringo
Poison
Grizzle
Storm
Quake
General Tsao
Ballista
Razor
Moco
Claws
Spanky
Link
Marcius
Yoshi
Fluffy
Klein
Riddick
Pinchy
Cool Spider Names For a Wolf Spider
Wolf spiders are not your usual beginner spider. They are robust and swift hunters that live alone and do not spin webs. For those of you who want to keep a wolf spider as a pet, here are some good names for the wolf breed:
Chuck
Licorice
Midnight
Fred
Barry
Belette
Smokey
Gunner
Friskie
Ronnie
Balbinus
Sonora
Einstein
Jumbe
Flint
Kobe
Hammer
Orkin
Kurt
Hadrius
Best Names For a Grass Spider
Grass spiders are pretty common in the U.S and Europe and are a great species to keep in a simple terrarium. They are easy to feed and reproduce, making them an excellent alternative spider to the more common pet tarantula. Here are some pet spider names that are a great option for a grass spider:
Aqua
Misty
Nicephorus
Scream
Aboo
Flame
Copper
Bert
Skully
Spectre
Lightning
Blur
Fleck
Shale
Oreo
Pirate
Sparky
Punk
Crash
Best Names For a Fishing Spider
Fishing spiders make great pet spiders that like to hunt near bodies of water, detecting their prey from the ripples it makes and running across the surface to catch it. They make interesting pet spiders to watch and study. Consider these spider names if you want to keep the Fishing Spider breed:
Leviathan
Rowdy
Hathor
Ras
Akasha
Stingy
Krull
Trajan
Chopper
Tank
Stark
Tanner
Lex
Swart
Kraken
Moe
Stabby
Wave
Prickle
Kirby
Names Meaning "Spider" In Other Languages
Another cool name for your spider could be actual translations of the word "spider" in different languages. So we have compiled for you a list of the best translations of "spider" in other languages which you can pick from to name your arachnid:
Ämblik – Estonian
Araignée – French
Aranha – Portuguese
Araña – Spanish
Araneo – Esperanto
Aranya – Catalan
Armiarma – Basque
Brimba – Maltese
Buibui – Swahili
Caaro – Somali
Damhán Alla – Irish
Edderkop – Danish
Gagamba – Filipino
Gizo-gizo – Hausa
Kónguló – Icelandic
Laba-laba – Indonesian
Merimangë – Albanian
Pajek – Slovenian
Pauk – Croatian
Pavouk – Czech
Pry Cop – Welsh
Ragno – Italian
Ragnu – Corsican
Sekho – Sesotho
Shpin – Yiddish
Spin – Dutch
Spinnekop – Afrikaans
Spindel – Swedish
Ududo – Igbo
Voras – Lithuanian
Bonus: Spider names in popular culture and fictions
If you want to give your spider a definite cultural reference to some of your favorite books, films, or TV shows, we've compiled from you the most famous spider names here.
Miss Spider from David Kirk's children's books
La Princesse, a 50-foot mechanical spider designed by the French performance act company La Machine
Kumonga, a mutated spider in Toho's 1967 movie Son of Godzilla
Miss Arrow, one of the Marvel characters
Boris the spider, a song written by The Who's bass guitarist, John Entwistle.
Lucas the spider, an animated character created by Joshua Slice
Anansi, an Akan Folktale characater
Charlotte – from the children's book Charlotte's Web
You may also like